Smart Healthcare Steering Group
The framework of Taipei Smart City takes "smart government" as the core value, and promotes "smart security", "smart building", "smart transportation", "smart education", "smart healthcare", "smart environment", and "smart economy" to be the blueprint for the future development. In order to achieve it, "1+7 smart city steering groups" were established. The smart healthcare steering group is composed of the Department of Health as the chair, the Department of Social Welfare, the Department of Information Technology, and outside experts. The smart healthcare group is aimed to provide better healthcare quality and caring environment through smart technologies for citizens in Taipei.
Telemedicine Cart Application During Pandemic Period
With the technique of AIoT, medical staff can open the communication software for remote consultation or monitoring without touching the computer, which can reduce the risk of infection, improve the quality of care, and reduce the cost of care.

· PPC-22-M Medical-grade Panel PC
· Contactless medical service with AI eye tracking function
· Customized software, hardware and system integration services
· Provide remote cloud-end and client-end communication software (optional)
· Medical grade all-in-one computer with built-in battery
· ToF Sensor can detect patient's condition at bed for real-time monitoring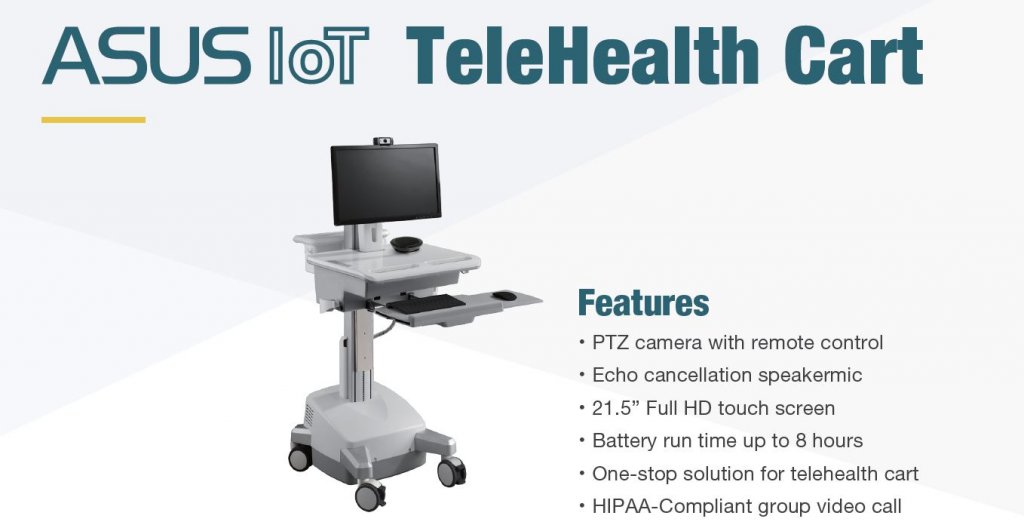 Download

Solutions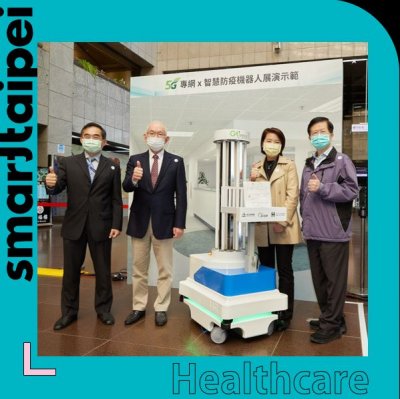 Smart Healthcare Steering Group
5G private network smart disinfection delivery robot
With the combination of the characteristics of 5G network and AMR intelligent robots for disinfection and delivery it provides convenient services and safe environment. There are some characteristics of 5G network, including high bandwidth, low latency, large connection, and high stability. AMR autonomous mobile robots combined with 5G network and deep learning technology, the robot can go to the ward autonomously and achieve the functions of medicine delivery, meal delivery, and ward disinfection. It can assist medical staff in sterilizing isolation wards, transporting lunch boxes, medicines, and other materials, to reduce the risk of infection and to improve work efficiency.