FaceHeart Inc.
FaceHeart was founded in 2018 with the AI technology developed at NYCU. The company name FaceHeart is from its core technology, contactless vital signal measurement. It uses a camera to detect people's faces, from the video image and algorithm computing to get people's heart rate, heart rate variability, and blood pressure contactless. From your face to your heart, this is the idea of the company name. FaceHeart is started with the Angel fund from the Ministry of Science Technology Taiwan and has received the A round investment from the worldwide famous IC design company in Taiwan.
FaceHeart Inc. is an AI company that integrates artificial intelligence, deep learning and physiological information measurement. FaceHeart's technology can be leveraged in several industrial fields, Smart Security, Fintech, epidemic prevention and Healthcare. In 2019, we've cooperated with a commercial bank in Taiwan to launch VIP recognition and vital sign emotion detection systems to prevent scams in the digital bank. For long-term development, we target the healthcare applications: epidemic prevention, elder home care, and medical level products for clinics and hospital use. We are currently co-working with several medical centers and hospitals in Taiwan for clinical trials and data collection.
Through our technology and products, people can instantly learn about physiological information and enable the society, environment and people to be healthier and safer.
FinTech is going fast with the AI technology development that revolutionizes the banking processes, financial literacy, and digital bank services.
FaceHeart AI-based physiological signals detection and emotion detection technology helps the digital bank/VTM to enhance the automated solutions and security management.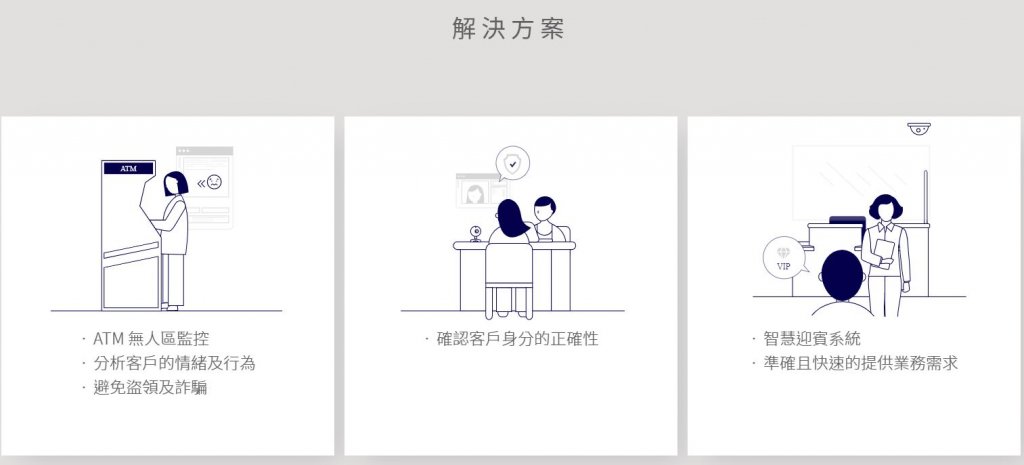 Solutions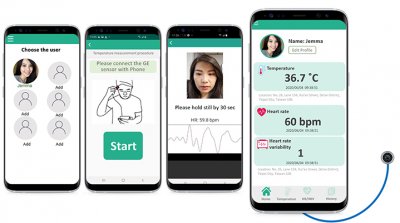 FaceHeart Inc.
496 1
Smart Disease Control and Prevention
FaceHeart Clairvoyance Application Suite
The intelligent pandemic prevention of body temperature and heart rate monitoring system is a health monitoring solution that helps central units/enterprises/schools/factories to manage employees and students. Combining computer vision and AI technology, including face recognition, contactless body temperature, contactless physiological information measurement, GPS positioning, and other functions, it can effectively manage whether the user is actually at home and contactless to detect the user's body temperature and vital sign and see if there are doubts about health and safety of these people. The central unit/enterprise/school/factory can keep track of the physical conditions and whereabouts of employees and students at any time, and give appropriate warnings under abnormal circumstances.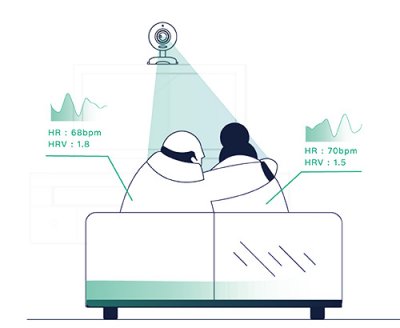 FaceHeart Inc.
Smart Healthcare
The world is gradually entering into an elderly society, it is an urgent policy to develop long-term care. For the long-term care of elderly people, artificial intelligence plays a pivotal role. Combined with artificial intelligence and contactless vital sign measurement technology, which can replace the discomfort traditional wearable devices. What's more, the elderly do not need to change their living habits, and the system can make 24 hours health records. This technology can not only be applied to the elderly but also for the baby monitoring care or the care of patients with special diseases (e.g. sleep apnea). Long-term monitoring healthcare provides more reference for medical staff and more peace of mind for family.