BXB Electronics Co., Ltd.
Founded in 1991, BXB Electronics applies AVIoT integration as the core technique to offer smart office and smart classroom solutions. Since the establishment, BXB has been striving for the optimization of innovation and service and being the most reliable partner of the global enterprises. The conference system and PA system, with the installation performances in more than 100 countries, has led BXB being the leading brand in Taiwan. In 2020, BXB marched into Taiwan Startup Terrace and stationed a smart meeting room for the business development of the next 10 years. Until now the total of 35 organizations and 330 visitors have experienced the smart space, which makes this meeting room become the most iconic PoC spot in the Startup Terrace.
Smart Conference Room Solution
With AV over network, cloud, and system integration, BXB constructed a smart meeting room for video conferencing, creative thinking, and comprehensive digital management. It effectively enhances the communication efficiency and brand influence of corporates.

.Video conferencing: features smart image-tracking, crystal-clear audio, and excellent video quality as a face-to-face meeting.
.AV distribution system: integration of video wall, one-touch projection, and A/V control, offering the interactive and immersive meeting experience.
.Environmental control: easily control the A/V equipment and electricity via a tablet. It also features APP door access and online reservation, making the room management smarter.
.Live-streaming & recording: simultaneously record and live stream the employee training, meeting, product release, and many more events to the world.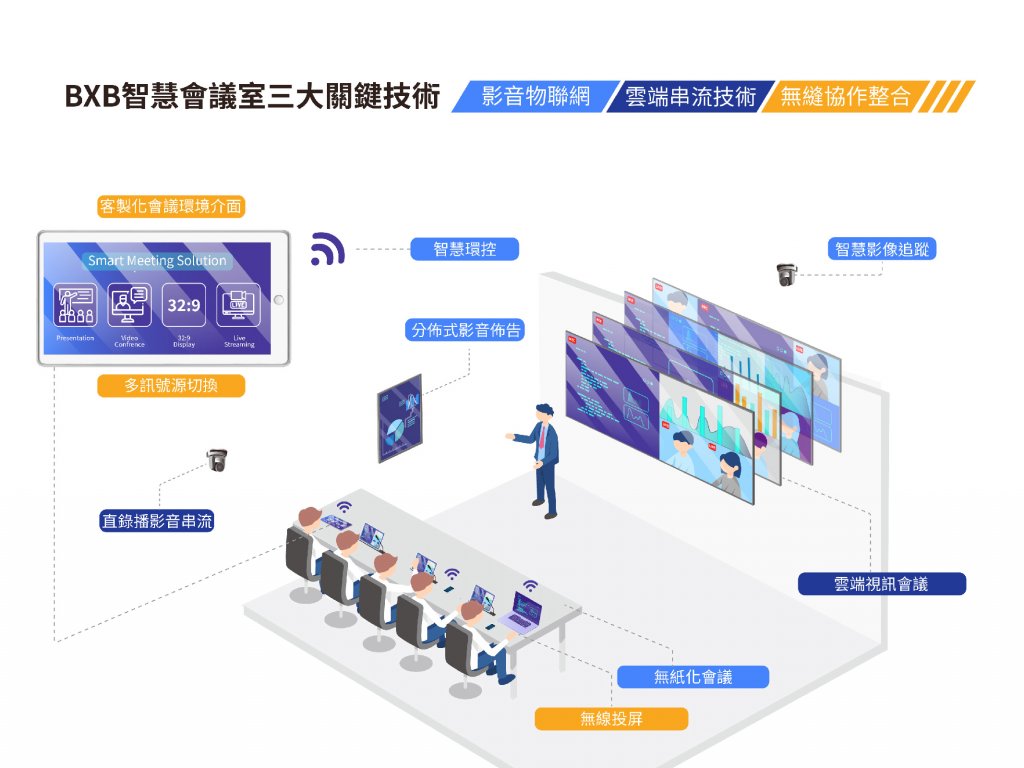 Download