Chicony Power Technology Co., Ltd.
Chicony Power Technology Co., Ltd. is one of the listed subsidiaries of Chicony Group in Taiwan. It was established on December 24, 2008. The paid-in capital is NT$3.823 billion and the number of employees is about 12,700. It is the global information power industry. It is one of the top three professional power supply manufacturers in the market, with operations in Taiwan, the United States, Europe, Southeast Asia, and China. The main products include smart building management systems, high efficiency electric motors, various types of commercial or consumer IT equipment power supplies, LED power modules and LED lights. Chicony Power currently has four factories located in Dongguan, Chongqing, Wujiang, and Nanchang with a total area of 160,000 square meters.
As a leading high-tech enterprise in the industry, Chicony Power firmly grasps the opportunities brought by innovation, transformation, and development. We focus on the development of smart cities and smart buildings in Taiwan and abroad to develop intelligent control and sustainable energy-saving technologies. Through international technology R&D, management team, software and hardware research and development, and system integration, we achieve multi-disciplinary development fields such as building weak electricity, energy-saving control, wireless communication, and algorithms. In recent years, we have developed innovative smart system solutions for buildings with different attributes in smart cities. We are committed to meeting the three demands of "Efficient operation of construction equipment", "Optimization of building environment", and "Optimization of building energy saving". Through complete system design planning, hardware development and production, software application integration, engineering construction, and professional consulting services, we provide customers with one-stop all-round quality services.
IWA Smart Building Integrated Management Platform
IWA smart building integrated management platform, based on data analysis and IoT technology, integrates air conditioning, curtains, lighting, electricity, access control, property management, facilities management system, and so on. It also provides a natural language dialogue interface and a graphical control interface based on mobile devices. These four important design concepts are how IWA SBIMP is designed and built. Perceivable: Can collect data from the building environment. Thinkable: With multiple different intelligent algorithms that can convert these data into meaningful information. Conversational: Through the internet and by smartphones or tablets, to control devices or get information from the system. Controllable: Operates on smart algorithms that can automatically control devices in the building. IWA smart building system has widely been implemented at various commercial buildings which satisfy with safety, comfort, convenience, management, and energy saving for different fields of users with a better quality of intelligent experiences.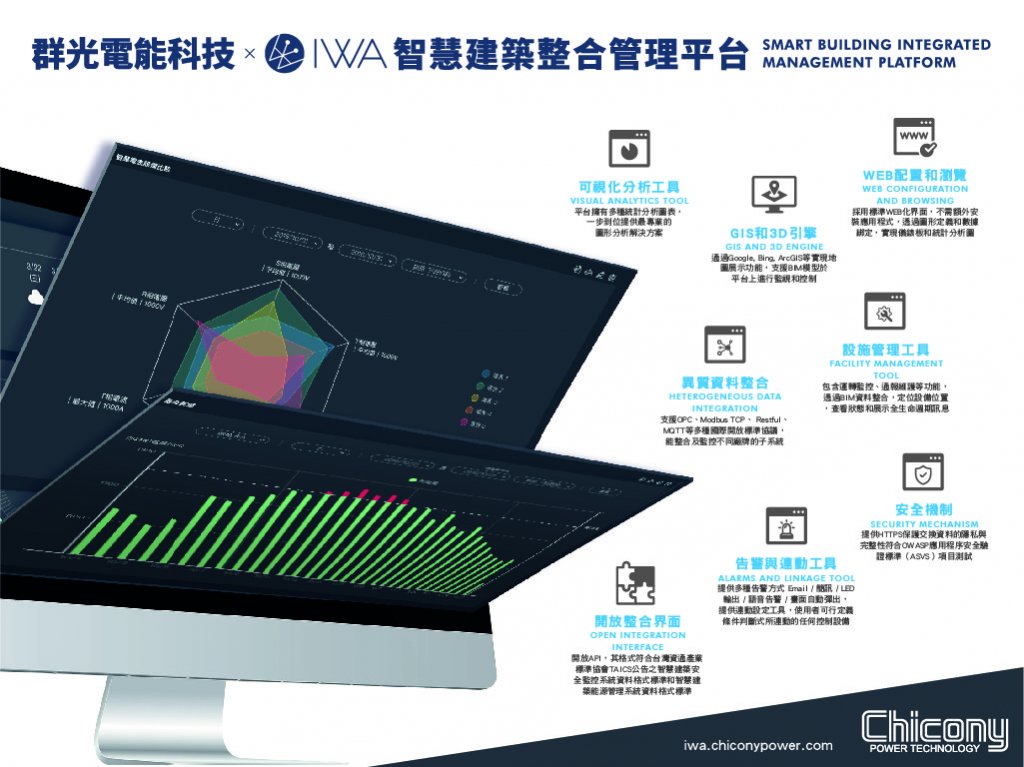 Download