Mercuries Data Systems Ltd.
MDS is a well-known information system integrator and a leading enterprise in the field of financial automation services in Taiwan. Successfully spanning the fields of finance, telecommunications, transportation and mobile and digital products, MDS continues to strive for new product development and business development. In recent years, we have actively participated in the smart innovation development project led by Ministry of Economic Affairs to enhance competitiveness with differentiated value.
ServiceJDC- Your best choice of fieldworker management
Choose ServiceJDC, Managing without any Worries!
A right Management tool is the key to the successful business management.
1. Comprehensive Customized
BI function for field manager: dispatch, manage and analysis.
Real-time, accurate, and delicacy operation.
Enhance effectiveness and decision-making capability.
2. Low Cost
Starter edition free for enterprise under 5 accounts.
Free upgrade and continuously updated product.
SMEs can enjoy low investment and high return
3. 0 Time Difference
Employees, customers and tasks can be imported immediately.
User friendly front-end & back-end platform: quickly key in and complete task.
Get real-time data with no time difference.
4. High Flexibility
Easily create forms by using custom form function.
Set up form's authority for different employees.
Manage the database with high flexibility form management.
5. High Quality
The largest cloud service –– AWS.
Won several awards and operated for a year.
Guarantee in stability and quality.
6. Excellent Service
Pursuit high quality in setting up and after-sale service.
Scenario videos, successful cases, and technical support.
Must suit your needs and meet your expectation.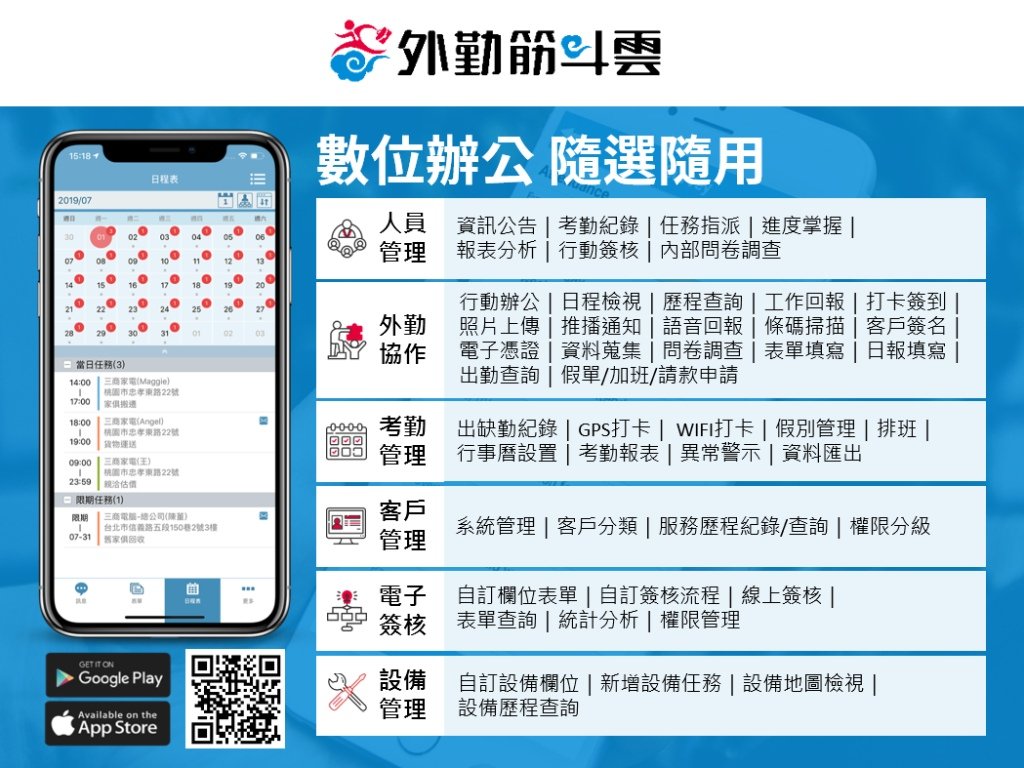 Download