INTERNATIONAL CLIMATE DEVELOPMENT INSTITUTE
ICDI, together with ICLEI Kaohsiung Capacity Center (ICLEI KCC), co-launched the
''2019 Global Smart Solution Report: City Challenges and Innovations'' during COP24 and the 2019 Smart City Summit & Expo. This report, building on the momentum of Taipei Smart City Summit & Expo 2018 (SCSE), aims to showcase selected smart city achievements around the world.

 During COP23, global and regional leaders have issued the Bonn-Fiji Commitment, signifying the strong commitment and intention of local and regional leaders working in partnership with all levels of government to achieve the Paris Agreement. With the vision to put the commitment into practice and live up to sustainable development goals, this report outlines the diverse urban challenges that cities have faced and further provides an overview of practical solutions applied to achieve their goals of inclusive, safe, resilient and sustainable human settlements.
Sustainable Business Mobility Plans (MES Plans) - Metropolitan Area of the Aburrá Valley(AMVA), Colombia
Today, it is estimated that almost one in ten natural deaths in the Aburrá Valley is attributable to the effects of air pollution. Currently, approximately 4.2 million tons of CO2 are generated per year in the Aburrá Valley, of which 70% are in the motorized transport sector.

Metropolitan Resolution 1379, passed in 2017, issued by the Metropolitan Area of the Aburrá Valley, adopts the Sustainable Business Mobility Plans (MES Plans) as a measure contributing to the development of comprehensive air quality and mobility management in the jurisdiction of the metropolitan territory.

The MES Plans are a transport-demand management tool generated by collaborators as they monitored their travels between various origins and destinations, therefore, they must be implemented near-universally: in institutions, public and private organizations or companies with more than 200 workers (direct and indirect) in the jurisdiction of the Aburrá Valley Metropolitan Area. Organizations with fewer than 200 employees (direct or indirect) may voluntarily implement the MES Plans.

The Metropolitan Area has two tools to help organizations formulate an MES Plan: the Guide for the Formulation and Implementation of the MES Plans, and the Interactive Platform. These tools aim to generate sustainable mobility capacities within organizations.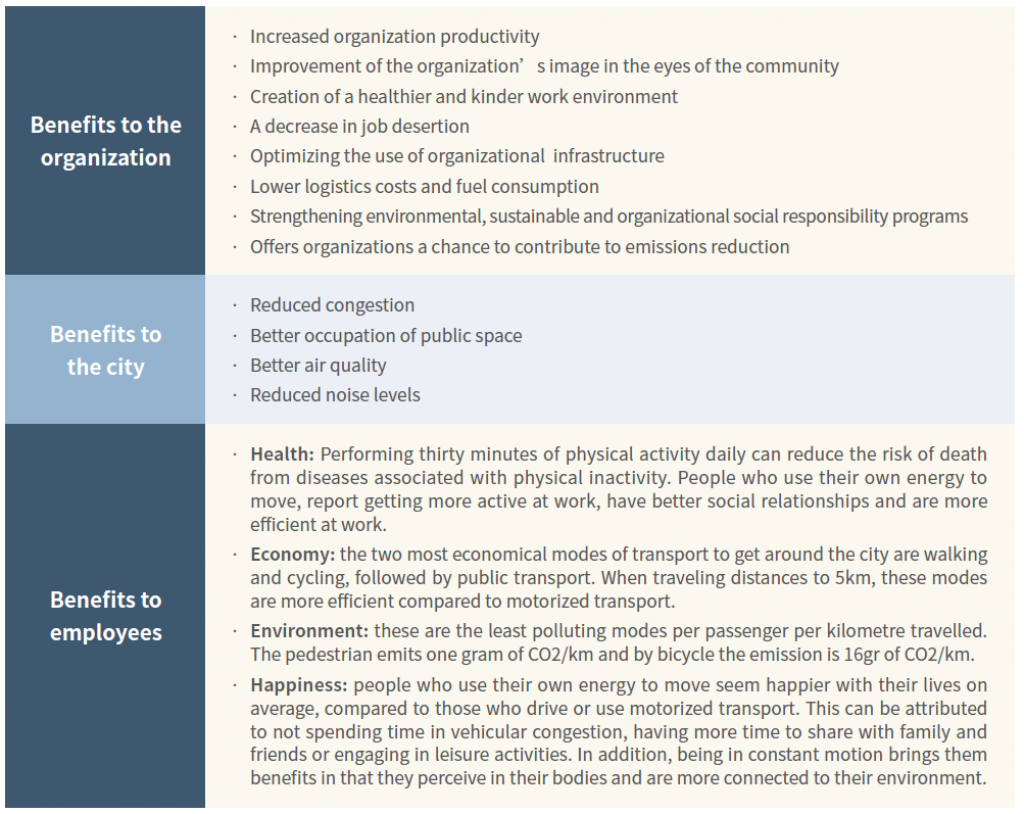 Solutions