Department of Environmental Protection, Taoyuan City, Taiwan
The EcoLogistics Community is established by ICLEI, a city network with ambitious visions, led by various innovators and dreamers, and supported by experts and industrial enterprises. It aims to be an international leader in sustainable freight and ecological logistics. Taoyuan has officially signed a contract with ICLEI on October 27, 2019, becoming the world's first chair for the international EcoLogistics Community.
EcoLogistics is the development of freight transport based on a low-carbon, sustainable, and people-oriented perspective. Over 2,000 logistics companies, accounting for 80% of total logistics companies are located in Taoyuan. Taoyuan, as the center of Taiwan's logistics industry, has the responsibility to lead the international community to implement EcoLogistics. Therefore, Taoyuan EcoLogistics Project Office was established to integrate the city government, industry, experts, scholars, and international organizations, in order to promote EcoLogistics. By doing this, cities can not only develop the economy but also protect the environment and create a win-win situation.
Taoyuan City Biomass Energy Center BOT Project
Smart City should have a high-quality and intelligent environment. How to use technological technology to re-integrate resources is an important task for Smart City now and in the future.
In order to dispose of the Taoyuan City's biomass waste properly, the city hall plans to introduce private professional technology, manpower and capital investment and development to achieve the dual benefits of waste treatment and energy recovery, zero waste and sustainability in the future additionally to achieve the three-win goal of operation. It is planned to establish a multiple purpose waste treatment facility in an area of 4.38 hectares of environmental protection area in the Taoyuan Science and Technology Industrial Park with Build-Operate-Transfer(BOT) model according to the "Act for Promotion of Private Participation in Infrastructure Projects" for investment promotion, which including Anaerobic digestion unit (designed capacity:49,275 ton/y), Thermal treatment unit (designed capacity:219,000 ton/y) and Landfill (designed capacity:40,000 m3). The contract is signed in October 22, 2018, and the biomass energy center is expected to operate at the end of 2021.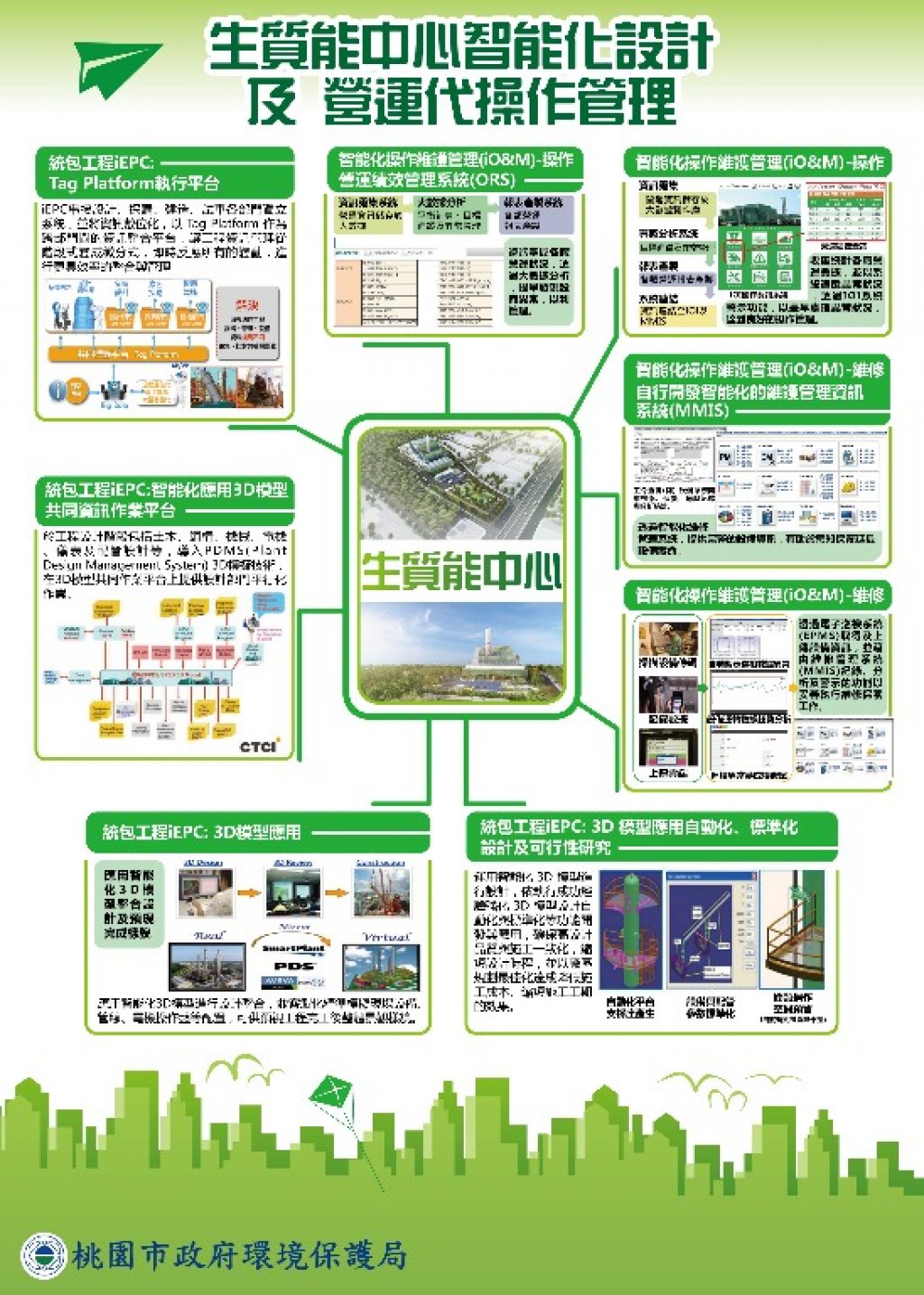 Solutions