Department of Water Resources , Taoyuan City, Taiwan
As the extreme climate change has seriously challenged urban capacity to withstand flood, the technical means are not enough to support the current situation. As a result, DWRT integrates the rainfall data of neighboring cities and develops a system which provides the disaster prevention information through a dashboard and displays the information by map overlay. Through the System, more than 250 water information sensors are able to share the data just in time, the efficiency of disaster warning and preparation has been greatly increased.
Besides, citizens in Taoyuan daily living sphere can obtain customized information which is published on the Water Resources Information APP. The APP design is user-friendly and it provides various functions about disaster prevention in life. Citizens are encouraged to adopt self-protection in regard to disaster response, with the help of the System, Taoyuan will become a safe and a sustainable city.
Taoyuan City Intelligent water resources application
As the total amount of groundwater availability is difficult to measure visually, it is hard for managers to monitor the status of groundwater. By integrating water level and pumping volume monitoring information through the intelligent platform, managers can predict the future groundwater situation in their jurisdictions, and with the aid of data visualization tools, managers can make dynamic adjustments to groundwater resources such as reducing or stopping pumping.
In terms of sewer management, Taoyuan City develop sewer intelligent monitoring system with Internet of things (IoT) technologies.The system can help us to understand sewer system real-time operation in metropolitan disaster prevention and sewer maintenance by BIG DATA analysis.It also integrates more than 15,200 sewer manhole pipelines through the "Taoyuan City Sewer Cloud Smart Management System" to effectively maintain and manage to ensure service standards; the "Taoyuan City 3D GIS System" visualization the pipelines and import conflict analysis to find errors immediately and avoid mis-digging.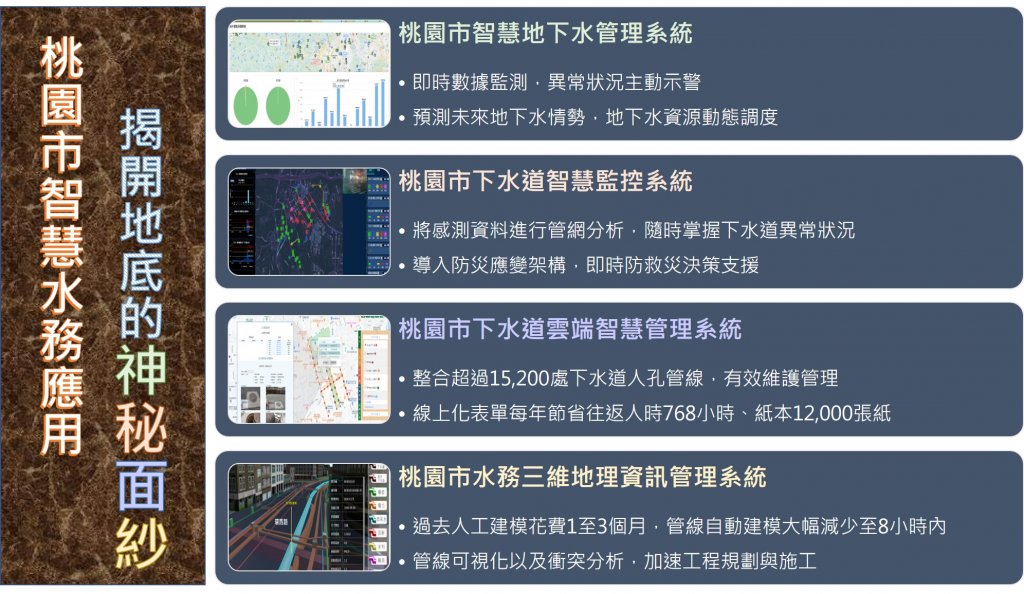 Solutions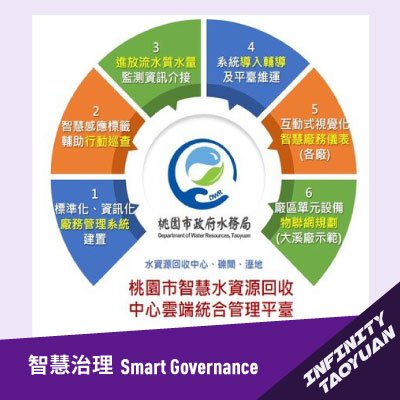 Department of Water Resources , Taoyuan City, Taiwan
Cloud IoT Operation Management System for Water Resource Centers of Taoyuan City
This service provides a cloud operation management system for all Taoyuan City's water resource centers.First of all, this system must be flexible and adjustable for all kinds of water resource centers due to the difference of their scales, functionalities, and informatization levels. Secondly, this system must be cloud-structured for centralized managing and enhancing its scalability to respond accordingly to building new water resource centers in the future. In this system, we redefine the daily and month report forms which are suitable for all water resource with different kind of scales, facilities, and daily operations. We also apply IoT technologies in this service for collecting the data via PLC and show the results of analysis on Dashboard, which allows the managers and administrators to seize the critical information with a glance. Furthermore, we apply Beacon technology to redesign the way of moving-inspection. This service provides an inspection APP. The staffs just need to carry a pad with this app and move to the place to inspect a particular facility. After sensing the Beacon tag installed nearby, the app will pop up the form of this facility to allow staffs to fill in the data, and then submit the data via internet to operation management system.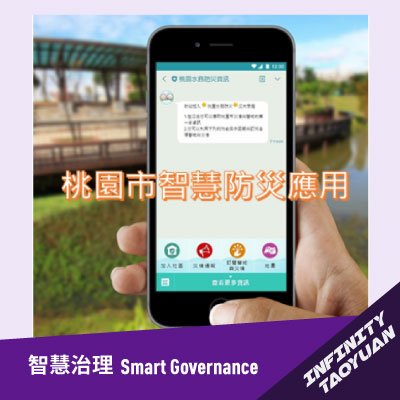 Department of Water Resources , Taoyuan City, Taiwan
Taoyuan City Intelligent disaster prevention application
Taoyuan City continuously develop intelligent disaster prevention, monitor real-time rainfall, river water level, sewer water level, and footages of 155 places in flood-prone area. The government also introduced flooding image recognition mechanism, building the water information monitoring network step by step. While the torrential rain approaches, there are 10 water gates designed on the concept of disaster prevention, those can be switched remotely and automatically, immediately proceed disaster preparedness. Properly process a big amount of sensor data through "Water Information System for Decision-making", provide integrated water information prediction. In addition, the Water Resources Information System APP publicize information about water information and disaster prevention, provides early warning, flooding events notification, evacuation and shelters, etc. It also contains a LINE Bot, specializes in flooding disaster prevention and making every autonomous disaster prevention staff a disaster specialist. In the future, it is expected to develop fully automatic flood control technology, and build a resilient city where citizens can live in harmony with water.