Department of Public Works, Taoyuan City
The City Government of Taoyuan has recruited many professionals in the fields of architecture, construction and administration to survey citizens' needs to rebuild the city landscape and demonstrate the results of public constructions. It is committed to serving the people and developing urban experience to improve the city's competitiveness.
The Department adheres to using social resources to continuously construct quality projects, implement construction management, and simplify administrative procedures. The Department has founded the "Integrity. Effectiveness. Public satisfaction" images for the government and improved the overall competitiveness of the economy, guiding the public to enjoy a new life in Taoyuan that has development, economy, prosperity, energy and quality of life.
In recent years, the Department has made smart government and improvement of the efficiency of urban management its objectives, and successfully technologies such as smart street lamps, building management, digital management of common pipelines and 3D pipeline drawings, and earned recognition from academia, industry and various awards. The adoption of technology management has greatly improved administrative performance. In the future, the Department will fulfill the concept of smart government to build an even better Taoyuan City.

Smart Human Factors for Safe Illumination to Protect Taoyuan
The City Government of Taoyuan has collaborated with vendors through the PFI approach to construct Taiwan's first human-centered smart lighting street lamp system. Smart street lights (dual modes of luminance/illuminance) and luminance-based street lights are placed along Section 3 and 5 of Gaotie South Road, which incorporate the concepts of human-centered lighting and visual design and smart LED to monitor determine the reflection of road surface, further adjusting illuminance and luminance. For example, when rain changes the road conditions, the smart LED street lights switch from illuminance suitable for dry roads to luminance suitable for wet roads. This implementation improves the overall lighting uniformity of roads after the rain and road users' visual comfort, making it the best configuration for road lighting.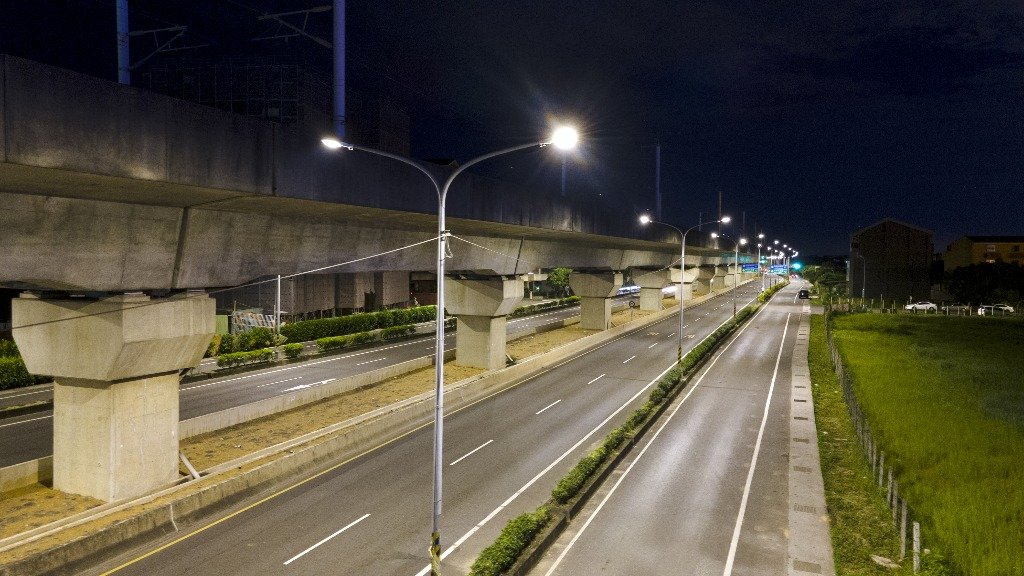 Solutions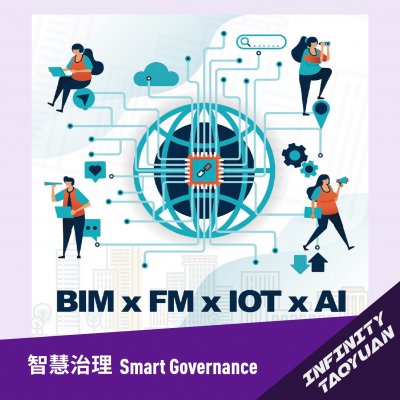 Department of Public Works, Taoyuan City
3D_AR_BIM integrated with AIoT machine learning across Government Facility Management
The BIM platform not only provides visual data and data record collection at each stage of the building's life cycle, it can connect to various IoT in the future and present prediction information of machine learning results. Use information feedback in the field of dynamic building control methods and security systems to improve FM (facility management) real-time data connection energy management. In the future, we will expand the life cycle management of digital asset resumes for public buildings owned by the municipality, and data assist decision-making, which will greatly reduce maintenance costs and achieve financial predictability of asset management. Create the integration of BIM resume data of ground buildings or facilities and equipment objects in smart city to improve the benefits of smart governance.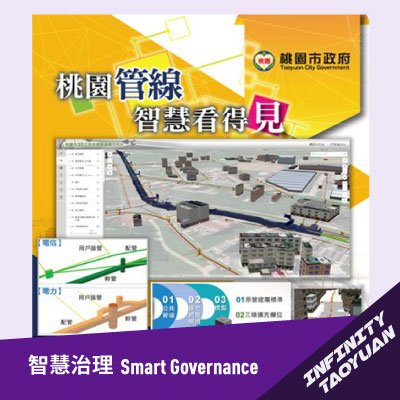 Department of Public Works, Taoyuan City
Taoyuan City 3D public facilities and pipeline system platform
Taoyuan City Road & Pipeline Management Information Services Center adopts smart management to coordinate excavation, management and maintenance, and improve the service quality of municipal roads. Promote map data update Reach 99% qualification rate for 3 consecutive years, attributable to good education, training and certification programs. Refine 3D pipeline specifications Built upon the standards provided by the Construction and Planning Agency and enhanced 3D information description Adopt the GML + IFC format 3D map platform for basic maps adopt the 1-meter grid DEM 1-meter DEM produced with LiDAR technology is used as reference terrain, further improving the undulations. Drill-hole survey Define work procedures and survey items 3D manhole display to assist with correction of pipeline position Establish SOPs for pipeline conflicts Reference to project cases to analyze configuration patterns of various pipelines and formulate corrective measures. Multi-pronged approach to improve pipeline accuracy Define pipeline accuracy to determine future priorities and goals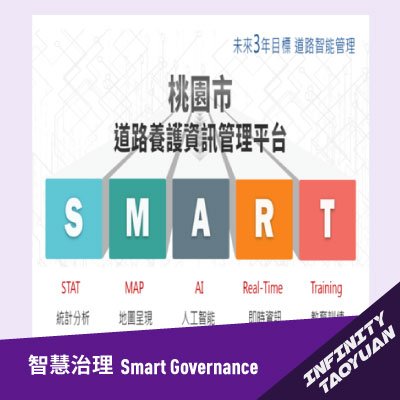 Department of Public Works, Taoyuan City
Road Maintenance and Patrol Refinement as Commissioned Professional Services
System display: Taoyuan City road maintenance information management platform (1) Analysis of historical data: Use historical database and year-by-year data update to conduct quantitative analysis of municipal roads and arrange maintenance priorities. Performance indicators such as IRI or PCI are used to help the Department to conduct the scheduled management of road maintenance. (2) Real-time identification: Since 2020, the Department has stipulated that all inspection patrol vehicles are required to have video equipment to be connected with the system in real-time to conduct image analysis of road damage. The practice reduces the subjective bias of on-site engineers. (3) Real-time dispatch of workers: The abovementioned real-time image analysis also incorporates the function of real-time dispatch of workers to replace the traditional way of dispatching through paperwork. The scope of maintenance can also be drawn online to estimate costs. The practice effectively achieves the goals of "on-time repair", effectiveness control, and cost analysis.