Edison Technology Incorporated
HiTutor is Taiwan's first and largest online multi-language learning organization that has been established in early 2009. Priding ourselves in showcasing the most effective personalized learning, our overseas Teaching Center in the Philippines offer courses that are available in more than 17 languages, and these courses reach more than 200,000 online learners worldwide.We also spare no effort in making sure that we are constantly optimizing our services, products and teacher trainings, as well as continuously developing a variety of patent-obtained platforms. In 2018, we have won two awards from The National Brand Yushan Award, namely: Phenomenal Enterprise and Best Product.

In 2020, Edison Tech became the partner of British Council, as a distributor of Aptis English Test in Taiwan. Aptis is a business to business solution, used by ministries of all kinds, multinational corporations, universities, small businesses and language schools all over the world to benchmark levels of English. You can choose whether to test all skills (speaking, writing, reading and listening) or just the ones most appropriate for your organisation. You can use it as part of your English development and training programme. You get a reliable assessment of your employees' English skills as Aptis is internationally benchmarked against the Common European Framework of Reference for Languages.
The Integration of 21st Century Skills and Language Learning Online Global Issues and English Enhancement Course Version:
The Integration of 21st Century Skills and Language Learning
Online Global Issues and English Enhancement Course

In aim of expanding students' ability to express their thoughts toward an issue, the course integrates 21 st century skills into language learning which helps to broaden the horizon and cultivate problem solving skills.

The target of the class is to cultivate students' language competence, independent thinking, and problem solving skills, so they can learn the language and think logically.

What will they achieve?
•Express their opinion effectively.
•Develop perspectives when doing research.
•Brainstorm solutions for problems.
•Think reflectively after learning.

Course Design
●SDGs Issues The themes
The themes of the material come from UN Sustainable Development Goals (SDGs). Build a connection between the issue and everyday life, guiding students to think about the importance.
● Education
STEAM is an educational approach to learning that uses Science, Technology, Engineering, the Arts, and Mathematics. The course combines the skills of these areas to develop different points of view.
●Problem/project Based Learning (PBL)
The course puts focus on developing students' problem solving skills. They find out problems and discuss solutions and results.

Learn Online PBL Oriented Material
The material is designed based on different real life issues.
The lesson starts with a "picture description" activity to let students have a basic idea about the issue.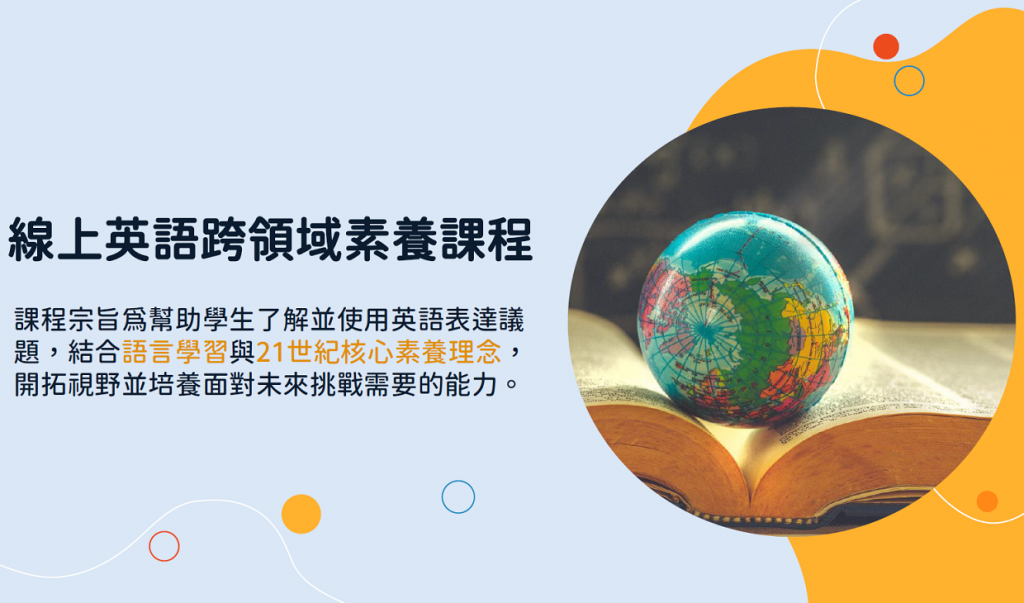 Download