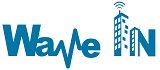 Wave-In Communication
Founded in 2014, Wave-In Communication has the industry-leading technologies to provide custom-tailored services and innovative solutions for our clients. Our business units are as followed:

5G Private Network System Integration
We bring in world-leading solution providers, such as Microsoft Affirmed Network, Microsoft Metaswitch, ASOCS, and Mavenir, to help our clients seamlessly scale up to 5G services. In 2020, we were proudly chosen by Taiwan's Ministry of Economic Affairs as a member of the ''Made in Taiwan'' 5G private network industrial team.

5G Indoor Coverage
Our revolutionary Distributed Antenna System (DAS) provides our clients with improved signal performance and end-to-end monitoring in the indoor environment.

Big Data Analytics Platform
We developed our own XiNOS, a multi-network blended data warehouse, to create real-time network management and AI analysis platform for our clients, substantially increasing operator's management efficiency.

IoT Solution for Smart LPG
We partnered with industry players to develop a set of intelligent LPG IoT solutions, which received an innovation prize in the 2020 Smart City Summit & Expo.
Liquefied Petroleum Gas (LPG) IoT Solution
1) Automatic Notification System
1. Consolidate the IOT info from various sensors, as well as history of user behaviors
2. Big Data Analytics & AI-enabled recommendation engine: Send delivery notice or abnormal alert
3. Push mobile APP message to User and Operator
2) Electronic Ordering System (Customized)
1. Planed delivery schedule service, user confirmed the delivery time, system automatically plans routing and deliveryman
2. Delivery schedule: Push individual mobile APP message to each deliveryman
3) Cylinder Management System (Customized)
1. Cylinder barcode APP scanning, Deliveryman scan the barcode and upload to cloud system
2. Automatic notification mechanism for expired cylinder
3. Data Analytics & Statistical Report
4) Safety Reporting System
1. LPG safety sensors: Including gas detector, Solenoid Valve, pressure switch and UVIR Flame Detector
2. IOT-BOX showoff Solenoid Valve and reporting
3. Push mobile APP message to User and Operator for emergency response
5) Cloud ERP System (Customized)
1. Modular management system: Accounting, Administrative, Financial, Procurement, Human Resource, inventory, Customer Service and sales management
2. Data collection, Analytics & Statistical Report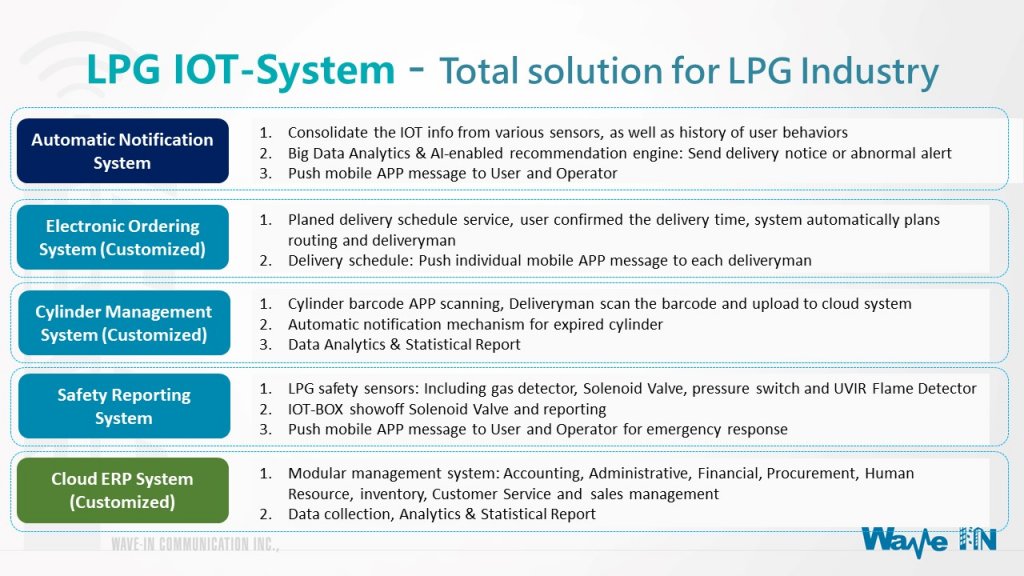 Download