INTERNATIONAL CLIMATE DEVELOPMENT INSTITUTE
ICDI, together with ICLEI Kaohsiung Capacity Center (ICLEI KCC), co-launched the
''2019 Global Smart Solution Report: City Challenges and Innovations'' during COP24 and the 2019 Smart City Summit & Expo. This report, building on the momentum of Taipei Smart City Summit & Expo 2018 (SCSE), aims to showcase selected smart city achievements around the world.

 During COP23, global and regional leaders have issued the Bonn-Fiji Commitment, signifying the strong commitment and intention of local and regional leaders working in partnership with all levels of government to achieve the Paris Agreement. With the vision to put the commitment into practice and live up to sustainable development goals, this report outlines the diverse urban challenges that cities have faced and further provides an overview of practical solutions applied to achieve their goals of inclusive, safe, resilient and sustainable human settlements.
Future City and the Next-Generation Community - City of Yokohama
Main issues:
 Ageing Population
 Old Infrastructures

Solution:〈Future-Oriented Urban Redevelopment〉

 List housing typology by demographics and household income statistics
First, Yokohama listed the housing typology by demographics and household income statistics in Yokohama City and Tokaichiba areas. This was aimed at targeting potential tenants and formatting blueprints, based on the existing dataset and its forecasts. In order to meet the future needs of tenants, the whole housing area has been divided into 3 main segments: general housing, senior residence, and public facilities (nursery, child care, and other community facilities).

 Collaborate with private sectors on land utilizationand planning
The principles of the Yokohama Smart City Project (YSCP, 2011) have been implemented through this redevelopment. It focused on providing a visible and user-friendly system optimizing energy supply and demand for individual houses, in cooperation with leading telecom, energy management and security management companies.

 Implement smart energy management
Yokohama's energy vision is to be an energy-efficient and energy-recyclable city that is environmentally robust, resistant to disasters, and economically strong. Home Energy Management Systems (HEMS) and Micro Electro Mechanical Systems (MEMS) were installed to enhance the visibility of energy consumption, as well as the on-site energy generation
of PV generation systems and storage batteries.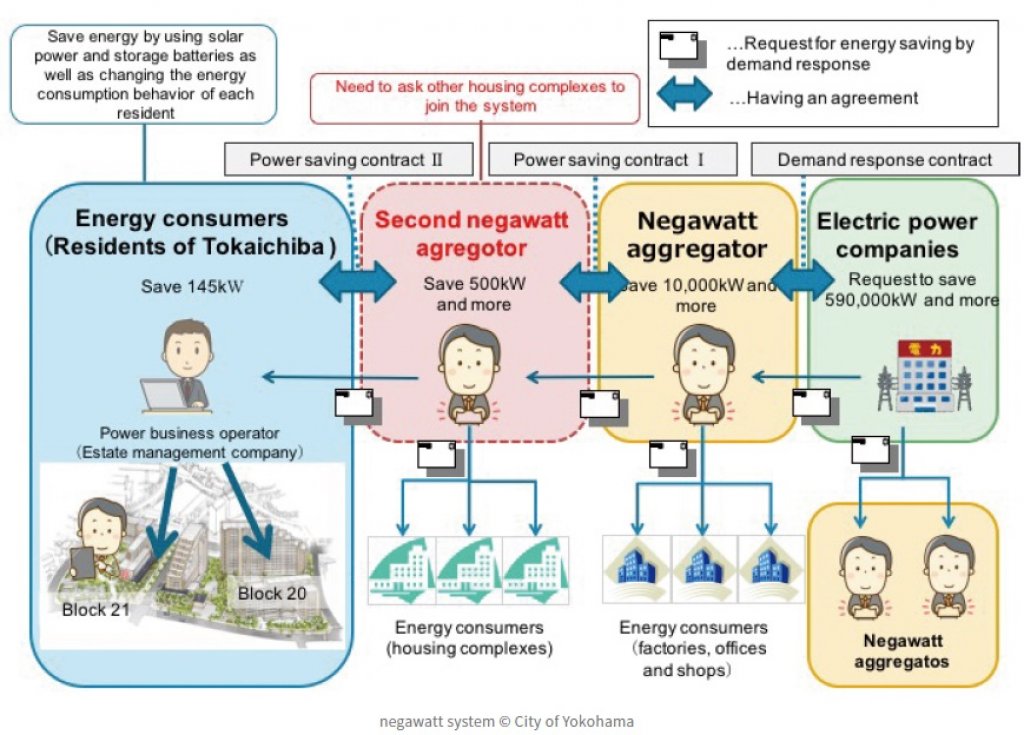 Solutions