INTERNATIONAL CLIMATE DEVELOPMENT INSTITUTE
ICDI, together with ICLEI Kaohsiung Capacity Center (ICLEI KCC), co-launched the
''2019 Global Smart Solution Report: City Challenges and Innovations'' during COP24 and the 2019 Smart City Summit & Expo. This report, building on the momentum of Taipei Smart City Summit & Expo 2018 (SCSE), aims to showcase selected smart city achievements around the world.

 During COP23, global and regional leaders have issued the Bonn-Fiji Commitment, signifying the strong commitment and intention of local and regional leaders working in partnership with all levels of government to achieve the Paris Agreement. With the vision to put the commitment into practice and live up to sustainable development goals, this report outlines the diverse urban challenges that cities have faced and further provides an overview of practical solutions applied to achieve their goals of inclusive, safe, resilient and sustainable human settlements.
Smart City platform - Metropolitan Area of Barcelona, Spain
In 2012, the Metropolitan Area of Barcelona faced an increasing demand for services, which wasn't backed up by an adequate IT system. In this context, the challenges the AMB faced were the origin of the Smart City Platform.

The Smart City Platform is an integrated informatics interface used to manage cleaning and maintenance tasks, public works and activities related to the management of parks, beaches, rivers, waste management and public transport. Through the employment of online applications, the Smart City Platform brings together technicians, public administrators and citizens, aiming to share real time information efficiently and to expand the scope of collaboration of city councils, companies and citizens.

The technological platform is being developed in tandem a Smart City Metropolitan Model. It is built with common components (integration, analysis, monitoring, sensors, actuators, asset management, and connections with city councils and citizens) and by specialized operational components (technological sensor systems, operational systems, municipal systems, nucleus system, relational systems, metropolitan intelligence systems).

Since its formal constitution as an official public administration organism in 2011, the Metropolitan Area of Barcelona (AMB) has persevered in the offering of quality services to its citizens, in correspondence with its aforementioned competencies.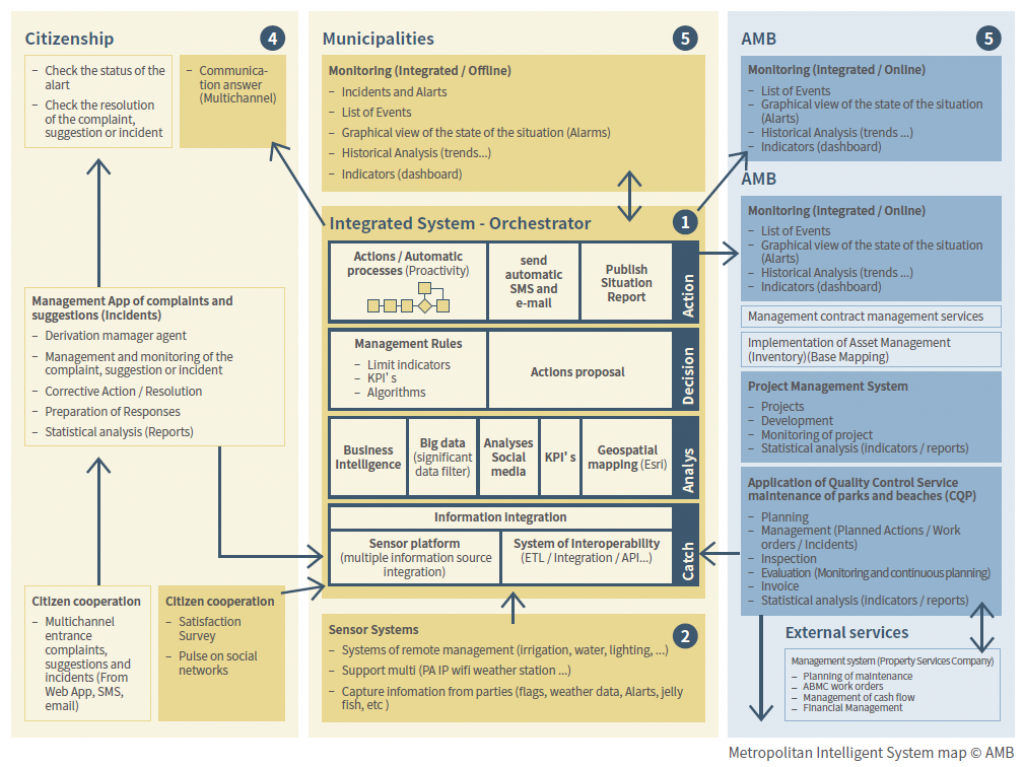 Solutions