ioNetworks INC.
Founded in 2014, ioNetworks is a leading startup company in Taiwan, providing total solutions of video AI technology. We apply deep learning technology in the industry of professional video surveillance, urban traffic analysis, science, healthcare and technological law enforcement management and so on, providing high-end video management platform, AI video analytics, sensor identification solutions and AI engines embedded in chips. We are keen on forming alliances with manufacturers, brand companies, telecom operators, IT product distributors, agents and large-scale system integrators in various countries to fulfill the need of large-scale AI services and realize smart devices that are of the elements to comprehend smarter cities.

Highly flexible business models are described as follows:
- Distribution or agency partnership - ioNetworks' Brand
- Distribution or agency partnership – International Brand powered by ioNetworks
- Cloud service – Revenue Sharing
- Licensing
Healthcare Solution- Hippocrates Series
Following the aging society and the expanding demand for healthcare, artificial intelligence assistive health care has become a trend. Hippocrates Series developed by ioNetworks to meet such demand, introduces non-contact sensing system to measure biosign information continuously, judge abnormal behaviors as well as falling, leaving bed and sends notification in real-time.
Differing from the recognition algorithm based on RGB image in the past, Hippocrates Series is developed through point cloud map to depth map, which eases the privacy concern to the users and is more suitable in the field of healthcare, providing real-time and 24 hours biosign monitoring.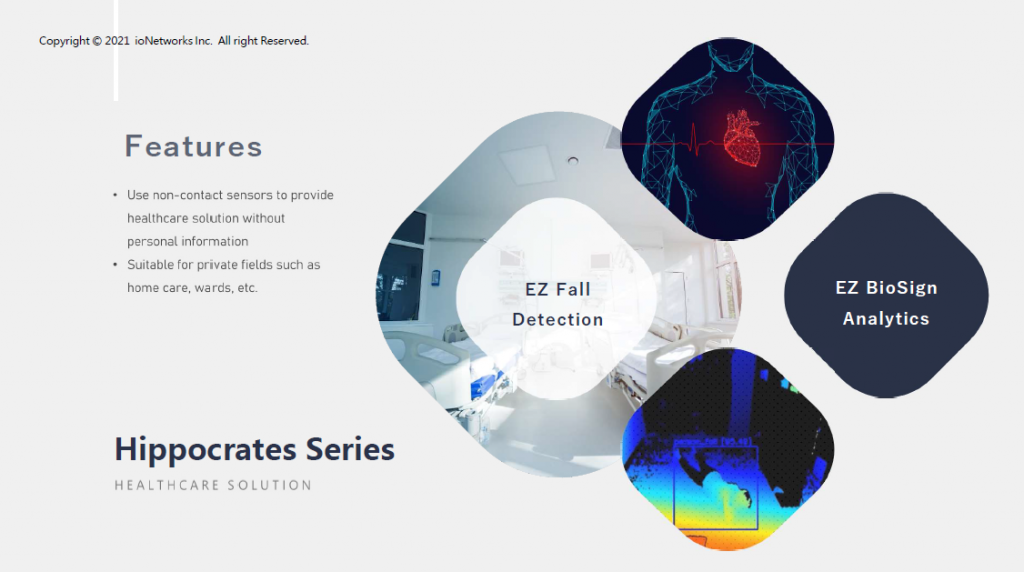 Download

Solutions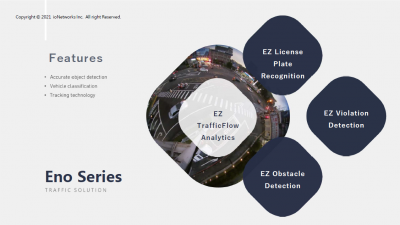 ioNetworks INC.
73 0
Smart Transportation
Smart Traffic Solutions- Eno Series
Eno Series is a smart transportation solution designed to achieve a more effective and safe transportation network. It uses deep learning technology to realize functions such as traffic flow analytics, license plate recognition, violation detection, obstacle detection, advanced techs law enforcement, danger detection and road condition analysis. With the traffic management platform (TMS) developed by ioNetworks, we can get a more humanized user experience, and deploy, collect and judge road condition information in advance for the future era of Internet of Vehicles.