Kaohsiung City Government
feature
Kaohsiung City has world-class airport and seaport, and abundant scientific and technological resources. This had attracted world-class semiconductor supply chain such as TSMC, ASE Group, Merck…etc. to land here in Kaohsiung. Kaohsiung also boosts the largest 5G demonstration test field, the "Kaohsiung New Bay Area 5G AIoT Innovation Hub", and as Kaohsiung gathers talents and technologies, this becomes a key place for global smart industries. As industries advance and transform, city administration services also become better and better. Kaohsiung City's approach to promote smart city had always been "people-oriented", to provide convenience and smart living for the citizens. Kaohsiung City also welcomes innovative technology businesses to partner with the city government. By taking Kaohsiung as a test field, Kaohsiung municipal government provides innovative value-added services to resolve the city administration pain points. As technologies and innovative services land in Kaohsiung and build sustainable business models, there are more opportunities for such public-private partnership to export the solutions and technologies abroad to the world.
solution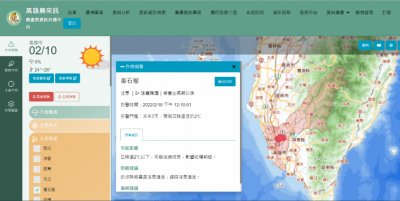 Kaohsiung Agrinfo System
Kaohsiung Agrinfo System integrates cross-domain agriculture big data to establish a common system mechanism and construct a common platform on agricultural industry information. It integrates big data on geographic information of 211 regions, 56 crop disaster prevention alerts, and 300 items of vegetable and fruit production and marketing information from the Kaohsiung Agricultural Surveys. It provides farmers with smart services for disaster prevention and smart production and marketing, which can assist farmers in disaster prevention and smart decision making during the production period, as well as production and marketing plans in response to consumer habits and trends. Kaohsiung Agrinfo System also provides instant access to production and marketing information, customizable push notification services and a status dashboard to enhance data readability. In addition, it actively enables open participation in crop disaster warning information services, and has launched a subsidy program for agricultural smart equipment and organized a service platform. It is hoped that public-private cooperation can accelerate the implementation of smart technology and help upgrade the agricultural industry in Kaohsiung, so as to achieve the vision of "Kaohsiung Smart Technology for Agricultural Development"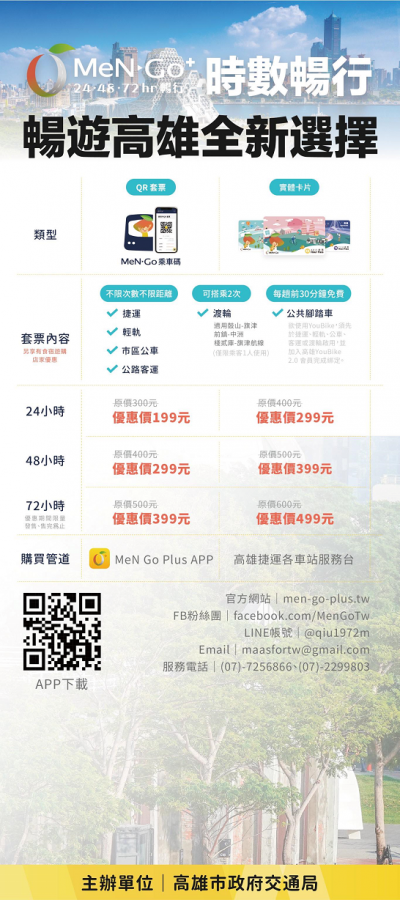 356 1
Smart Transportation
Upgrading The project for Mobility as a Service 2.0 in Kaohsiung city
In 2021, Kaohsiung city's Mobility as a Service project, name after MeN Go, mainly provides public transportation service combined with Youbike, Taxi, shared vehicle and park and ride service with discount monthly Pass for all the passenger in Kaohsiung area. Through on-time traffic information on smart phone application and website page, passengers are also able to plan route, purchase pass and get all the travel information. For local commuter, there are in total 4 types of monthly pass and one type of weekly pass, and distinguish from adult and student tickets respectively. For traveler, there are 3 types of hourly plans. By reducing the liability of private vehicles and resulted cost and negative effects, the use of public of transportation will then be improved.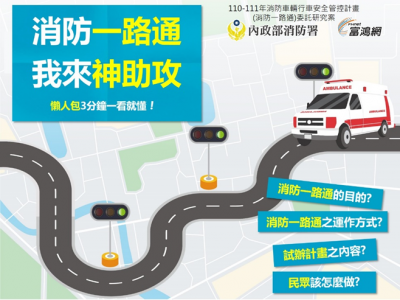 Pass All the Way
In order to protect the safety of firefighter and pedestrian when emergency vehicles like ambulances and firefighting trucks, passing intersection. By giving way to emergency vehicles first, firefighting truck is able to arrive on the scene faster, so that rescue efficiency would be improving. Along with "Commissioned Research on the traffic safety management and control plan for firefighting vehicles", Fire Bureau choose Yuan's General Hospital, which near 5G AIoT Innovative Hub, as trial destination and 12 intersections extended from the hospital, such as ZhongHwa Five Rd., as trial route. Chengkung and Cianjhen detachments, which located on rescue hotspot area, also take part in the projects as trial firefighting detachments. Through verifying the trial project, it is expected to examine the feasibility of integrating the mobile communication for real-time traffic signs control and to improve the road traffic safety for pedestrian.
TOP