Smart Building Steering Group
The framework of Taipei Smart City takes "smart government" as the core value, and promotes "smart security", "smart building", "smart transportation", "smart education", "smart healthcare", "smart environment", and "smart economy" to be the blueprint for the future development. In order to achieve it, "1+7 smart city steering groups" were established. The smart building steering group consists of the Department of Urban Development as the chief bureau, the Department of Information Technology, the Construction Management Office, and outside experts. It aims to enhance the safety, energy conservation, and management of buildings in Taipei through smart techs.
BIM-based paperless As-built documentation Integrated project delivery
1. Formulate a standard operating manual for the management of Taipei City Social Housing Engineering Archives, check and retain engineering graphic data according to standard operating procedures, import graphic data management codes, and standardize and retain Taipei City Social Housing Engineering Building Life Management engineering data. Improve the pre-operation of digital twins, continue to accumulate standardized social housing graphic materials, and continue to deepen the application to smart cities in the future.
2. Established the Taipei City Social Housing Engineering Archives warehouse management system, providing Taipei City social housing BIM and online viewing functions of various engineering data, and also providing a search function module, which is convenient for users to find the target engineering data.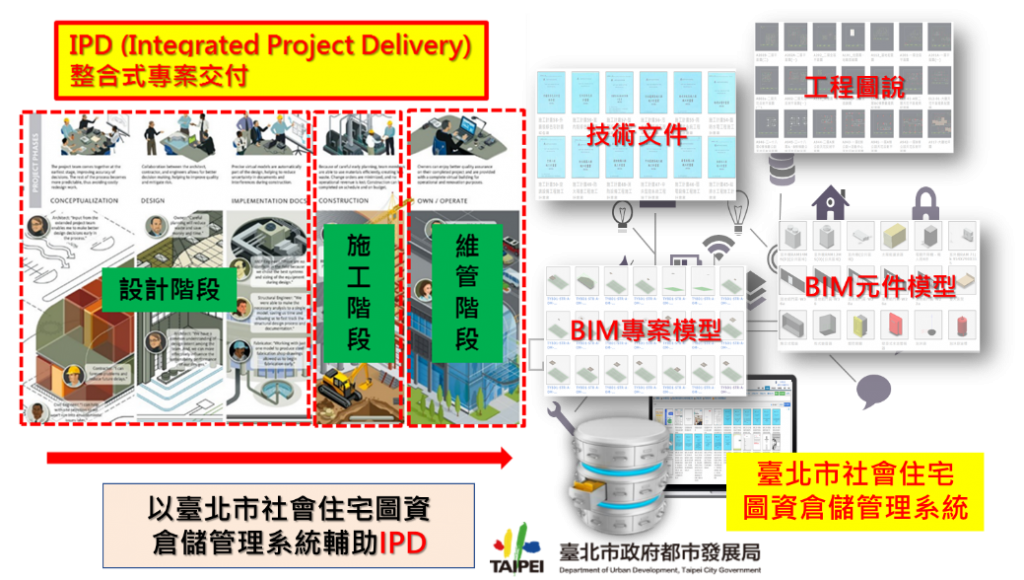 Download