TECO
Founded in 1956 for motor production, TECO Electric & Machinery Co., Ltd. has evolved to a major business group, spanning heavy electric equipment, home appliances, information technology, communications, key electronic components and parts, infrastructural engineering, financial investment, dining, and services, with its business scope covering over 100 cities in more than 40 countries in the five major continents. In the future, in addition to continuing profound cultivation of its core businesses, TECO will develop in the direction of businesses with high added value, such as smart products and systematic solutions and dedicate to the expansion of hi-tech businesses, with the objective of "energy conservation, emissions reduction, Intelligence, and automation," in order to build up a macro-perspective and high-quality world-class brand.
Permanent Magnet Direct Drive System Solution
1. Directly driving fans with a motor increases transmission efficiency and highlights the superiority of direct drive systems over traditional transmission systems, especially when combined with a variable-speed control mechanism and at lower rotating speeds.
2. The absence of mechanical components in a direct drive system eliminates the need for regular maintenance of the reducer, gearbox, and transmission shaft, as well as reduces the risk of oil leaks. This results in lower maintenance costs, longer product life, and reduced operating costs for customers.
3. Installation of TECO's proprietary inverter for cooling tower can reduce operating noise, buffer activation, and lower mechanical impact.
4. A 30 kW motor in constant-frequency operation can reduce total operating costs by up to 18% over a five-year period.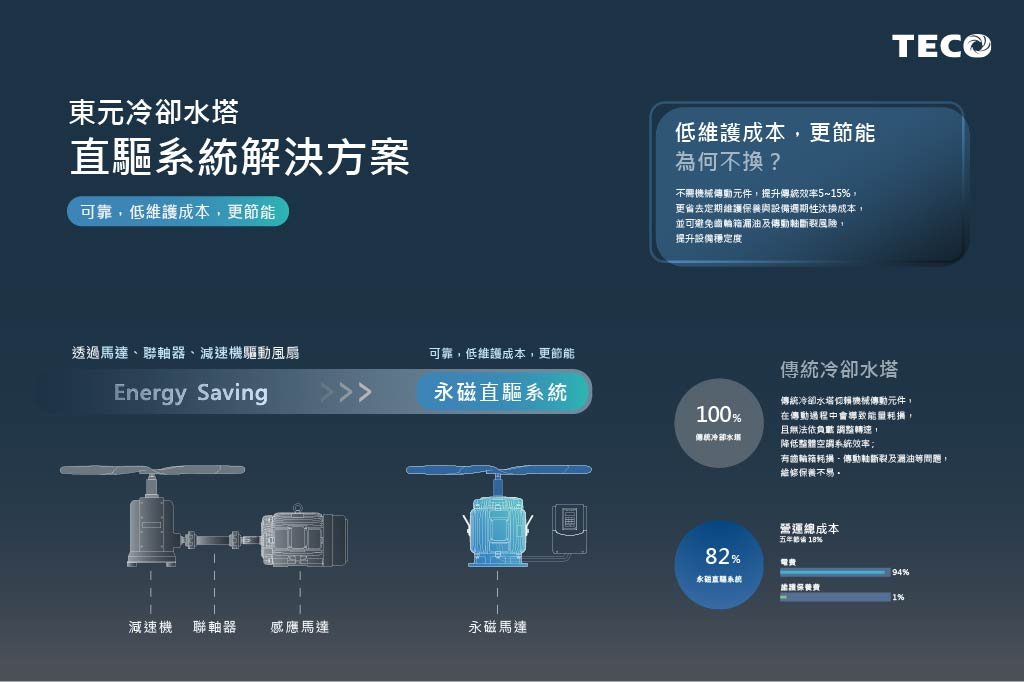 Download

Solutions