Department of Transportation,Taoyuan City, Taiwan
The "city of national gateway", need to create internationalized transportation service quality, grip the pulsation of global transportation, develop new thinking about transportation, and continuously develop new business of transportation.
Move toward the idea of "humanistic, safety, convenience, and excellence", and further to achieve 6 policies of this DEPARTMENT: "diversified transportation planning, sophisticated transportation management, matured transportation facilities, excellent road quality, convenient parking management, and electronic administration".
To cooperate with central government policy, so as to accomplish the consistency of transportation administration, to propel various important transportation constructions, actively improve transportation, satisfy demands of the public, enhance living quality and generate excellent transportation environment, as well as plan out vision of ideal future transportation in accordance with transportation demands, social economic conditions and regional environment in the City.
Application of Road Management Information Law Enforcement-Taking Roadside Parking Information as an Example of Detaining Vehicles in Arrears
There are more than 92,000 cases of arrears of parking fees in Taoyuan City. However, after the cases of arrears were transferred to the Administrative Executive Office for payments, the location of the vehicles in arrears could not be known. As a result, vehicles that are in arrears continue to occupy their parking space. The parking management information system provides real-time parking information for vehicles in arrears. The system actively reports the parking positions of vehicles in arrears. The Transportation Bureau and the Taoyuan Branch of the Administrative Executive Agency set up a vehicle arrears seizure team to notify the Taoyuan Executive Office of the Ministry of Justice through the system. The executive officer of the branch arrived at the scene to carry out the car detention, and then the transportation bureau dispatched a tow truck to move the vehicle in arrears to the depository of the managed goods and announced the auction of the vehicle to pay off the arrears.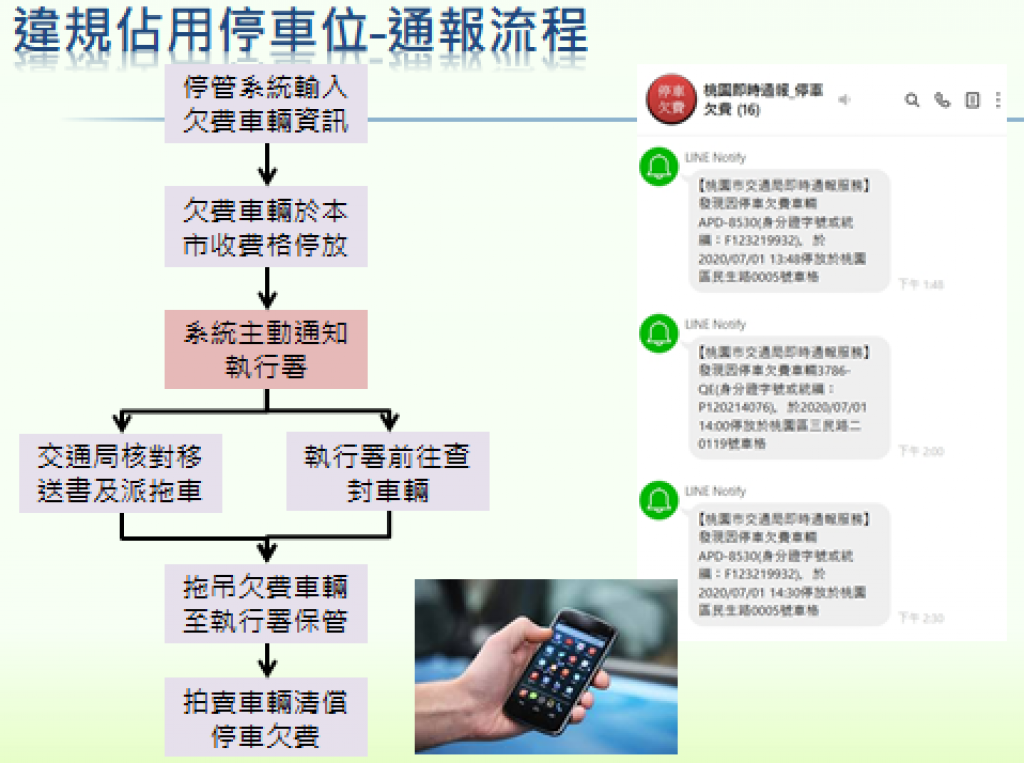 Solutions