INTERNATIONAL CLIMATE DEVELOPMENT INSTITUTE
ICDI, together with ICLEI Kaohsiung Capacity Center (ICLEI KCC), co-launched the
''2019 Global Smart Solution Report: City Challenges and Innovations'' during COP24 and the 2019 Smart City Summit & Expo. This report, building on the momentum of Taipei Smart City Summit & Expo 2018 (SCSE), aims to showcase selected smart city achievements around the world.

 During COP23, global and regional leaders have issued the Bonn-Fiji Commitment, signifying the strong commitment and intention of local and regional leaders working in partnership with all levels of government to achieve the Paris Agreement. With the vision to put the commitment into practice and live up to sustainable development goals, this report outlines the diverse urban challenges that cities have faced and further provides an overview of practical solutions applied to achieve their goals of inclusive, safe, resilient and sustainable human settlements.
Mosquito Control Facilitated by GIS & IOT in the Cloud
Smart Disease Control and Prevention
  In 2015, Tainan suffered the most serious dengue fever in history. According to statistics, Tainan experienced 22,754 cases and 112 deaths at that time. The fever pushed Tainan government to establish the Center for Dengue Prevention and Control in 2016. Under the Center, Tainan Dengue Epidemic Geographic Information System (TDEGIS) was set up as an inter-agency dengue prevention and control platform. The platform combines government prevention strategies and public engagement via information technologies such as big data analysis, cloud computing, IoT, and GIS. The ultimate goal is to integrate information and develop a thorough Dengue prevention network. The platform could display the hot spot and Breteau index in real time to support the control of dengue fever. It also provides information sharing and report functions to give advices about preventing fever. Moreover, the GeoJSON data innovated National Cheng Kung University (NCKU) inventing app, lamp and smart electric mosquito killer to solve the threat of dengue fever. The platform was successful given by the case dropping to only 10 in 2016 and 0 in 2017. And Tainan City received the 2017 IoT Innovation Award and the 2018 Smart City Summit and Expo Innovation Application Award for its efforts.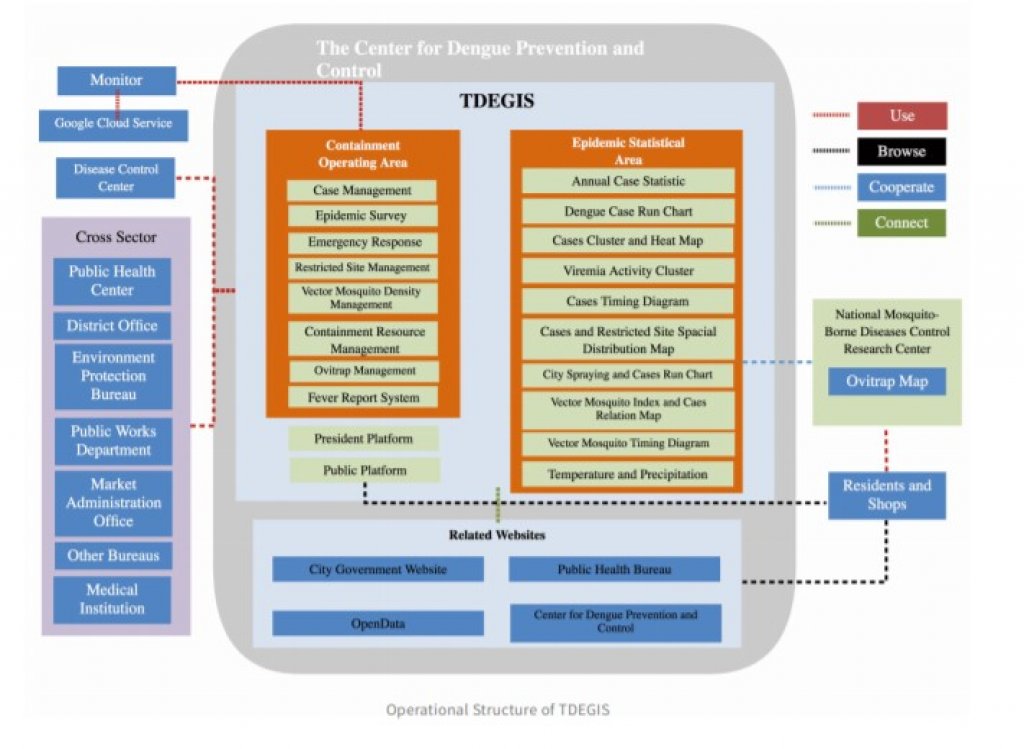 Download

Solutions