HABOOK Group
HABOOK Group, established in Taiwan in 1999, is dedicated to education technology research for more than 20 years, and has developed a complete resolution to school modernization, Our objectives are applying technologies into education, promoting effective TITM (Technology Innovative Teaching Model), strategies, and creating unlimited possibilities of education. TEAM Model AI Smarter Schools, which includes the classroom end smarter teaching system, student end smarter learning service, cloud analysis and management platform service that can effectively promote teachers' professional development and student learning outcomes. Currently, HABOOK is continuously building the smarter schools around the world. There are over 50,000 smarter classrooms for 2,000,000 students' daily usage.
HiTeach Mobile 3 Teacher Personal Subscription Edition (Home)
HiTeach Smarter Teaching System is the core of TEAM Model Smarter Classroom that integrates software and hardware. It simplifies the complicated processes of before, during, and after lessons, and helps teachers easily flipped traditional classroom into smarter classroom.

In order to accelerate the promotion of Smarter Education and help each teacher and achieve each child, TEAM Model launched HiTeach Mobile 3 personal subscription version for teachers (home use), which helps the first-line Smarter teachers to have the latest teaching at an affordable price. With the latest technology, teachers can easily practice student-centered, team-based learning (TBL), Data Decision. Students are taught based on their talents, to accommodate their personalities and enhance their capabilities in the classroom.

Subscription instructions:
1. HiTeach Mobile 3 is a dedicated subscription version for teachers, which is limited to teachers' personal subscriptions only, and can be renewed or purchased year by year.
2. This subscription authorization needs to be bound to the teacher's personal TEAM Model ID. You must first download the HiTA App and apply for the TEAM Model ID.
3. Subscription process:
1) Download HiTA (click here), apply for TEAM Model ID (click here for application process)
2) After the remittance, fill in the reply form (click here). After the reconciliation is completed, the serial number will be sent to the e-mail box you specify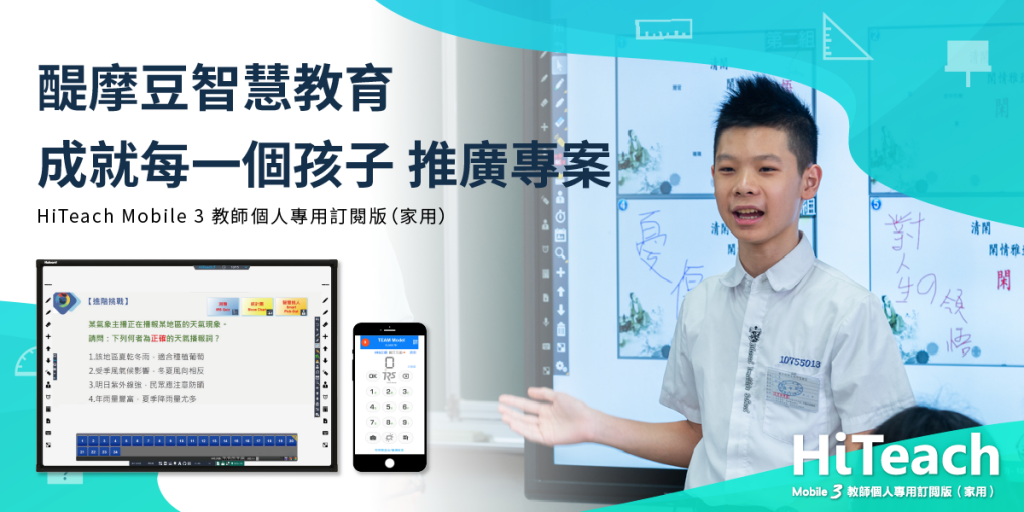 Download

Solutions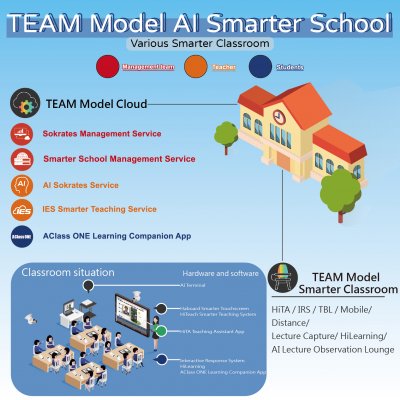 HABOOK Group
TEAM Model AI Smarter School
TEAM Model Smarter Classroom is a kind of smarter classroom based on HiTeach Smarter Teaching System, which is also the basic constituent unit of AI school. Starting with "teaching" and "learning" in class, TEAM Model Smarter Classroom perfectly integrates all kinds of software, hardware and cloud AI, big data required in the class. Without complicated operation, it can help teachers and students to achieve the ideal state of modern classroom and flip the traditional teaching scene.