INTERNATIONAL CLIMATE DEVELOPMENT INSTITUTE
ICDI, together with ICLEI Kaohsiung Capacity Center (ICLEI KCC), co-launched the
''2019 Global Smart Solution Report: City Challenges and Innovations'' during COP24 and the 2019 Smart City Summit & Expo. This report, building on the momentum of Taipei Smart City Summit & Expo 2018 (SCSE), aims to showcase selected smart city achievements around the world.

 During COP23, global and regional leaders have issued the Bonn-Fiji Commitment, signifying the strong commitment and intention of local and regional leaders working in partnership with all levels of government to achieve the Paris Agreement. With the vision to put the commitment into practice and live up to sustainable development goals, this report outlines the diverse urban challenges that cities have faced and further provides an overview of practical solutions applied to achieve their goals of inclusive, safe, resilient and sustainable human settlements.
Green BIM Micro-Climate Data Platform
Life cycle of a building could be more than 60 years. If it could be designed and arranged by following local climate, it will decrease a lot of energy consumption in the after operating status.
This website is sponsored by DELTA Company, Central Weather Bureau (CWB), National Building Centre and International Climate Development Institute. Establishing a TMY3 climate database with 4 types of format that are oftenly used in the building energy consumption software, also providing dependable weather data and statistic climate data for calculating yearly energy consumption. This website also provides many kinds of weather data to saving energy from design to operating phase.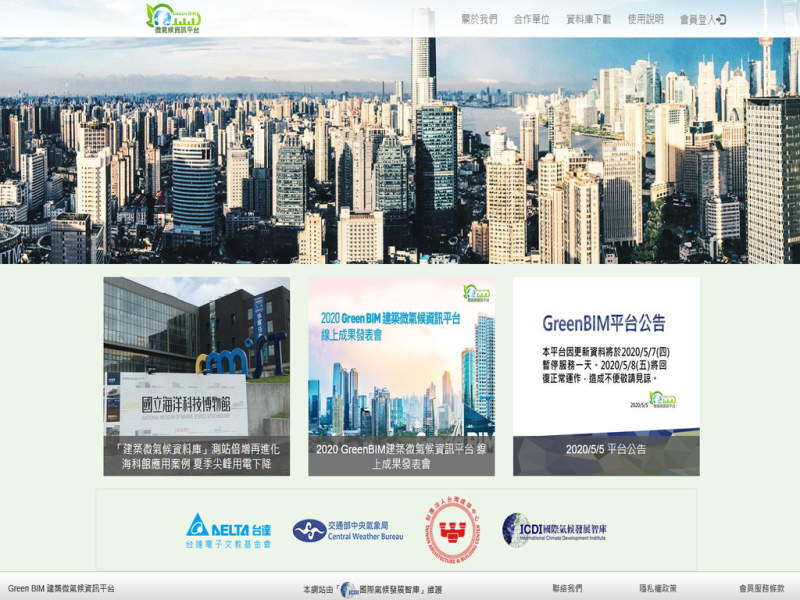 Download

Solutions