INTERNATIONAL CLIMATE DEVELOPMENT INSTITUTE
ICDI, together with ICLEI Kaohsiung Capacity Center (ICLEI KCC), co-launched the
''2019 Global Smart Solution Report: City Challenges and Innovations'' during COP24 and the 2019 Smart City Summit & Expo. This report, building on the momentum of Taipei Smart City Summit & Expo 2018 (SCSE), aims to showcase selected smart city achievements around the world.

 During COP23, global and regional leaders have issued the Bonn-Fiji Commitment, signifying the strong commitment and intention of local and regional leaders working in partnership with all levels of government to achieve the Paris Agreement. With the vision to put the commitment into practice and live up to sustainable development goals, this report outlines the diverse urban challenges that cities have faced and further provides an overview of practical solutions applied to achieve their goals of inclusive, safe, resilient and sustainable human settlements.
Promoting Application of Recycled Aggregate in Public Construction
Taoyuan city rooted in two Life Circle and had largest international airport in Taiwan. The city government proposed NTD110 billion budget and erected mass public constructions recently. However, public constructions required plenty of asphalt concretes, but the traditional way had low-efficiency and posed negative effects to environment. As a result, recycled aggregate became more and more important. The quality of recycled aggregate possessed some downsides. In order to improve recycled aggregates, Taoyuan city government promoted circular economy through public-private partnership. Recently, it replaced 33,500 tons of asphalt concrete. If it will apply to the Aerotropolis road, it is expected to replace 1.65 million tons.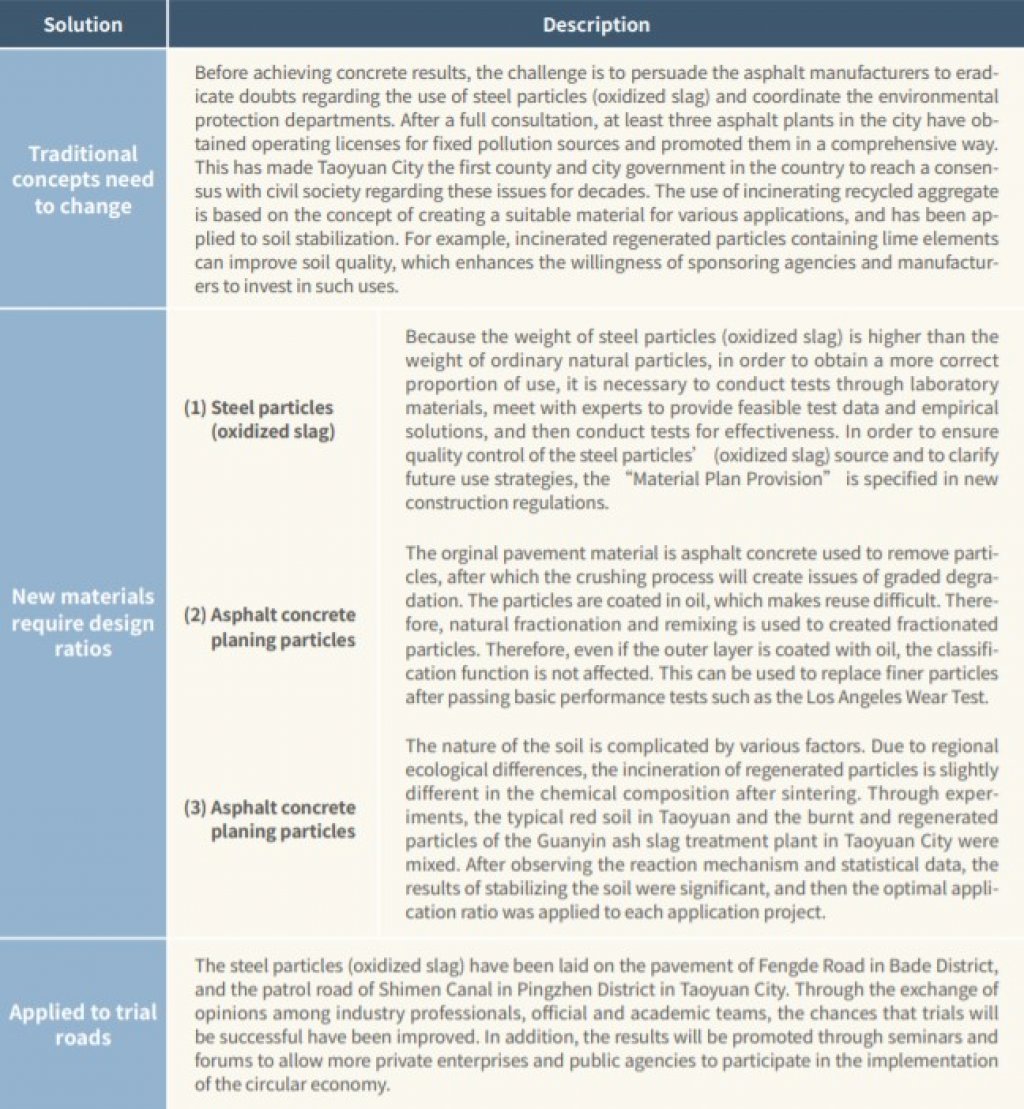 Download

Solutions