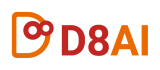 D8AI Inc.
Vision: creating practical and economic AI solutions beneficial to human society
Mission: to efficiently provide enterprises and organizations with custom AI solutions
D8AI Inc. is an AI service provider. Our products and services include enterprise-grade chatbots, virtual assistants, AI customer service, natural-language analytics, business data prediction, precision marketing, and AI document recognition, with applications in government services, finance & insurance, healthcare, retail, tech industries, etc.
Founded in 2017 in Taipei, the D8AI team comprises seasoned scientists and engineers with an average work experience of over 10 years, and with expertise covering natural-language processing, computer vision, predictive analytics, and full-stack software development & deployment.
Enterprise Intelligence Bot
D8AI Enterprise Intelligence Bot (EI Bot) is an integrated chatbot and AI assistant, customizable for individual enterprises of various sizes. Used by employees or customers, EI Bot can act as an interactive enterprise info center, provide customer-care or other services, and process business workflows such as leave application, meeting arrangement, return merchandise authorization, or custom procedures. EI Bot provides a friendly user interface based on a proprietary instant-messaging platform, as well as an easy back-end environment that includes light-touch training of the chatbot model, requiring no IT background. EI Bot is expandable and scalable. It can be started merely as a chatbot answering FAQs for the enterprise, and over time, grow into an enterprise service center providing various internal or customer-facing services, as well as an enterprise intelligence center collecting and analyzing customer data for precision marketing or business trend prediction, using its optional natural language analytic tools.

*Please note that member solutions are often customizable to meet the needs of individual enterprise end users.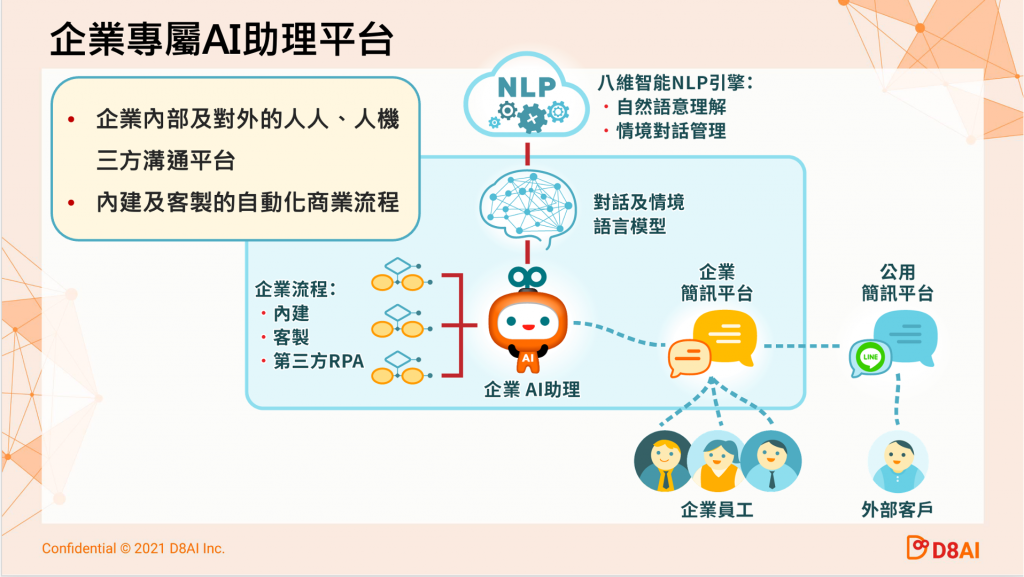 Download

Solutions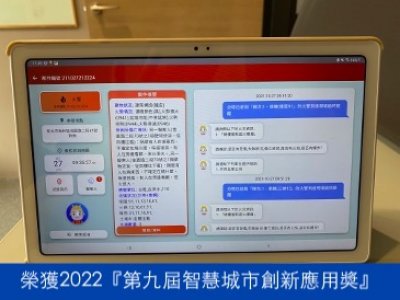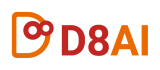 D8AI Inc.
Virtual Assistant for Emergency Dispatchers
In any emergency call center, dispatchers play a key role in the emergency response procedure. During an emergency, a dispatcher needs to sort out a stream of incoming calls in real time, assess the incident status dynamically, deploy first-responder units most suitable for the rescuing mission, as well as coordinate with organizations that can assist the rescue. "Little Dr. Dispatch" is an AI-enabled virtual assistant for emergency dispatchers. It was co-developed by D8AI Inc. and New Taipei City Fire Department. D8AI developed the AI algorithms, system logics, user interface, software-hardware integration and deployment for Little Dr. Dispatch; NTC Fire Department was responsible for providing domain know-hows, model-training data, and testing and implementing Little Dr. Dispatch. The software system of Little Dr. Dispatch contains a natural-language processor based on a deep-learning BERT model. The main functions of Little Dr. Dispatch include (1) updating the status of any emergency incident in real time, (2) reminding the dispatcher to take proper actions at the right timing, (3) answering the dispatcher's inquiries for task-related information, and (4) fulfilling the dispatcher's request for an incident report that summarizes all key facts of the incident.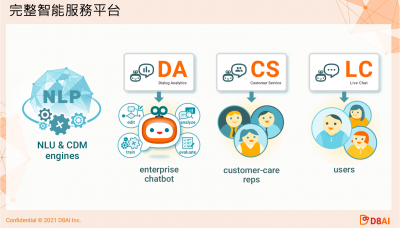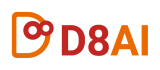 D8AI Inc.
Enterprise Chatbot
D8AI's Chatbot Platform makes building and using custom enterprise bots easy. An enterprise only needs to input questions and answers that will form the knowledge base for the enterprise chatbot or provide knowledge on data and workflows. This information will be organized and formatted before it is fed into our Natural Language Processing engines. Our proprietary NLP engines enable the enterprise chatbot to handle complex conversations with human users. These chatbots can be deployed over the cloud or on-premises. Users can communicate with an enterprise chatbot over multiple channels: the enterprise's website or app, common social media platforms, telephones, kiosks, smart speakers, or even a physical robot. The D8 Chatbot Platform also comes with two platforms. The first is the DA platform that allows enterprises to edit and upload new text and workflows for training and re-training their chatbots. It also evaluates the chatbot's performance and analyzes dialogue between the user and the chatbot. The second is the CS platform, where an enterprise chatbot and customer-care reps can collaborate in real time to serve customers. When an enterprise chatbot detects negative sentiment in a customer's dialog, the chatbot can signal customer-care reps to takeover. For more information, contact us at www.d8ai.com