INTERNATIONAL CLIMATE DEVELOPMENT INSTITUTE
ICDI, together with ICLEI Kaohsiung Capacity Center (ICLEI KCC), co-launched the
''2019 Global Smart Solution Report: City Challenges and Innovations'' during COP24 and the 2019 Smart City Summit & Expo. This report, building on the momentum of Taipei Smart City Summit & Expo 2018 (SCSE), aims to showcase selected smart city achievements around the world.

 During COP23, global and regional leaders have issued the Bonn-Fiji Commitment, signifying the strong commitment and intention of local and regional leaders working in partnership with all levels of government to achieve the Paris Agreement. With the vision to put the commitment into practice and live up to sustainable development goals, this report outlines the diverse urban challenges that cities have faced and further provides an overview of practical solutions applied to achieve their goals of inclusive, safe, resilient and sustainable human settlements.
Smart Clean Air City - L'Aquila, Italy
L'Aquila, located in central Italy, is part of the Abruzzo Region and is the capital of the Province of L'Aquila.

People in the large metropolitan area around L'Aquila suffer from air pollution and poor air quality. Three major sources of pollutants in this area are motor vehicles on road, buildings in residential areas, and factories in industrial areas. There are as many as 100,000 people who study, work or travel here every day. The huge demand for private vehicles has caused the problem of air pollution in the city.

The project of "SMART CLEAN AIR CITY L'Aquila" aims to develop and test extensively an advanced solution operating at surface level, concerning the reduction of air pollution, applicable in urban centers according to environmental sustainability criteria, with high potential industrial application market, suitable for the chemical transformation of pollutants and, in particular, of the "particulate matter" present in the atmosphere which is the major carrier of organic pollutants and heavy metals.

Air pollution abatement
The Smart Clean Air L'Aquila project yields Air Pollution Abatement (APA), an intelligent and innovative platform that operates the air purification in built-up area. Three features of APA explain the high efficiency and low running costs: adaptability, flexibility and scalability.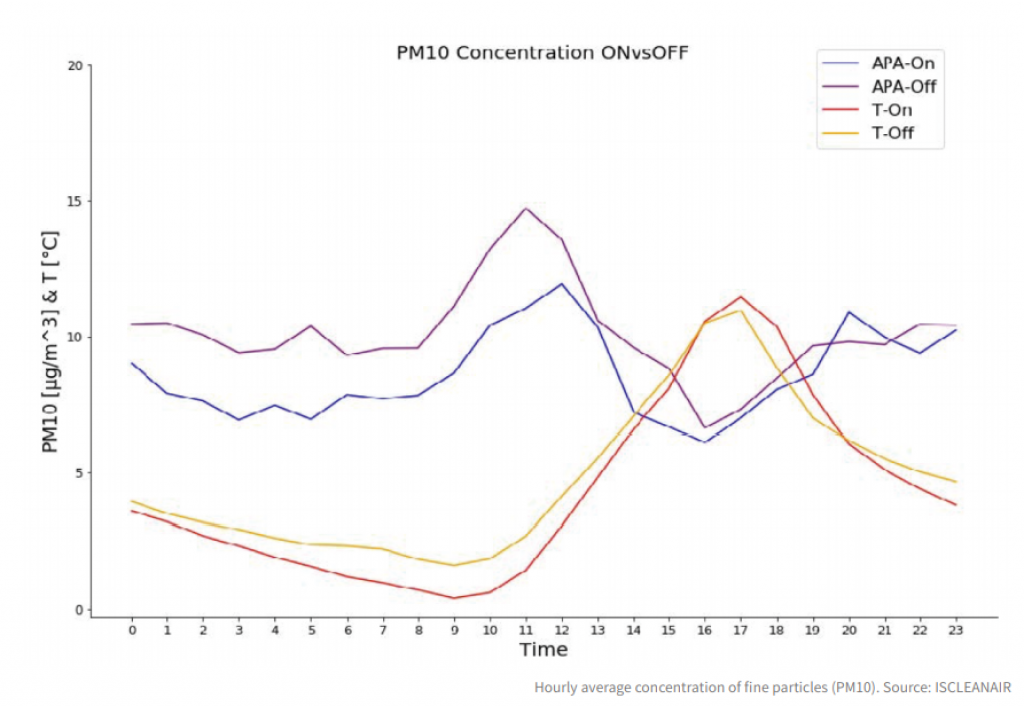 Solutions