INTERNATIONAL CLIMATE DEVELOPMENT INSTITUTE
ICDI, together with ICLEI Kaohsiung Capacity Center (ICLEI KCC), co-launched the
''2019 Global Smart Solution Report: City Challenges and Innovations'' during COP24 and the 2019 Smart City Summit & Expo. This report, building on the momentum of Taipei Smart City Summit & Expo 2018 (SCSE), aims to showcase selected smart city achievements around the world.

 During COP23, global and regional leaders have issued the Bonn-Fiji Commitment, signifying the strong commitment and intention of local and regional leaders working in partnership with all levels of government to achieve the Paris Agreement. With the vision to put the commitment into practice and live up to sustainable development goals, this report outlines the diverse urban challenges that cities have faced and further provides an overview of practical solutions applied to achieve their goals of inclusive, safe, resilient and sustainable human settlements.
Smart Waste Collection and Management System - Goyang, South Korea
In 2017, Goyang City produced up to 1,100 tons of waste per day. The city allocated around 66.7 billion KRW to waste collection and management services, but with the Smart Waste Collection and Management Service, the cost can be considerably reduced.

The technologies used as part of the Smart Waste Collection and Management Service include ultrasonic waste capacity sensors attached to pre-installed bins, solar-powered compacting waste bins, and waste collection vehicle tracker. All the data collected through these devices is sent to the Clean City Network database, where it is processed to track waste generation, overflow, and the efficiency by region, waste bin, and time period.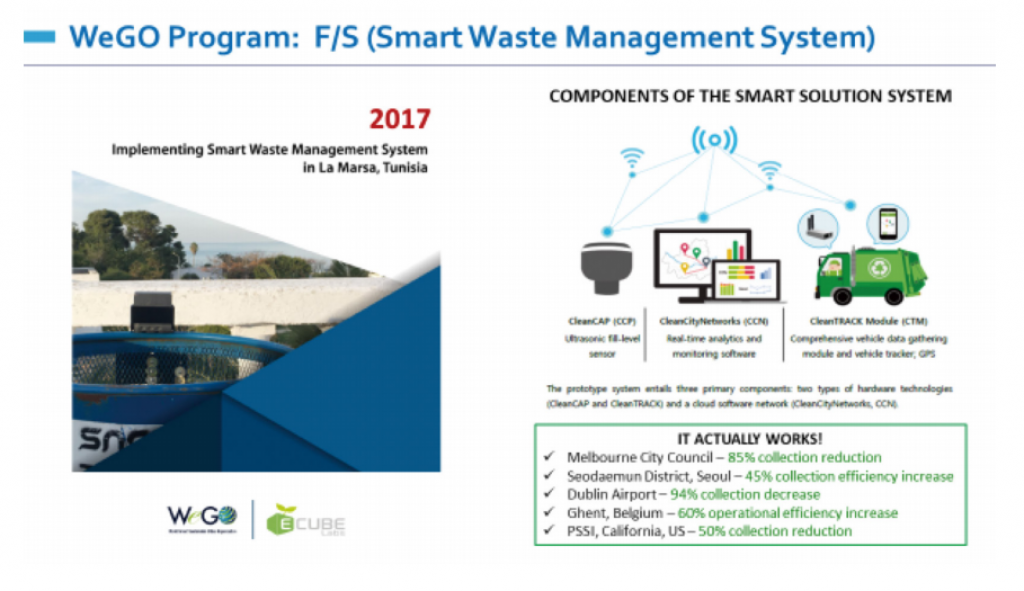 Solutions