INTERNATIONAL CLIMATE DEVELOPMENT INSTITUTE
ICDI, together with ICLEI Kaohsiung Capacity Center (ICLEI KCC), co-launched the
''2019 Global Smart Solution Report: City Challenges and Innovations'' during COP24 and the 2019 Smart City Summit & Expo. This report, building on the momentum of Taipei Smart City Summit & Expo 2018 (SCSE), aims to showcase selected smart city achievements around the world.

 During COP23, global and regional leaders have issued the Bonn-Fiji Commitment, signifying the strong commitment and intention of local and regional leaders working in partnership with all levels of government to achieve the Paris Agreement. With the vision to put the commitment into practice and live up to sustainable development goals, this report outlines the diverse urban challenges that cities have faced and further provides an overview of practical solutions applied to achieve their goals of inclusive, safe, resilient and sustainable human settlements.
Application of Recycled Aggregate-Taoyuan, Taiwan
Since August 9, 2017, Taoyuan city has entrusted the Chinese Society of Pavement Engineering to carry out the Strategy and Specification Revision Service for the Regenerating and Reusing Materials in Public Works in Taoyuan City with a bid of NTD 898,000. The work items included seven meetings of experts and scholars (including normative discussions, feasibility of trial projects, pavement planning), supporting related experiments, seminars, and promotion of education and training. In order to solve the problem of millions of asphalt concrete remaining in asphalt plants for decades and the difficulty of re-construction of the asphalt plants, they will implement a procurement case of less than NTD1,000,000 over six months.

Currently, it is common to use steel particles (oxidized slag) with a 30% substitution of the natural fractionation. Doing so saves about 6.24 Kg CO2e per ton in terms of carbon footprint. The Taoyuan City Office of Road and Accessory Maintenance conducted an oxidized asphalt concrete pavement trial project on Fengde Road, Bade District, Taoyuan City as a case study, using 1,300 tons of steel particles (oxidized slag). The carbon footprint was reduced by about 8,112 Kg CO2e, equivalent to one year of carbon dioxide absorption for 740 trees.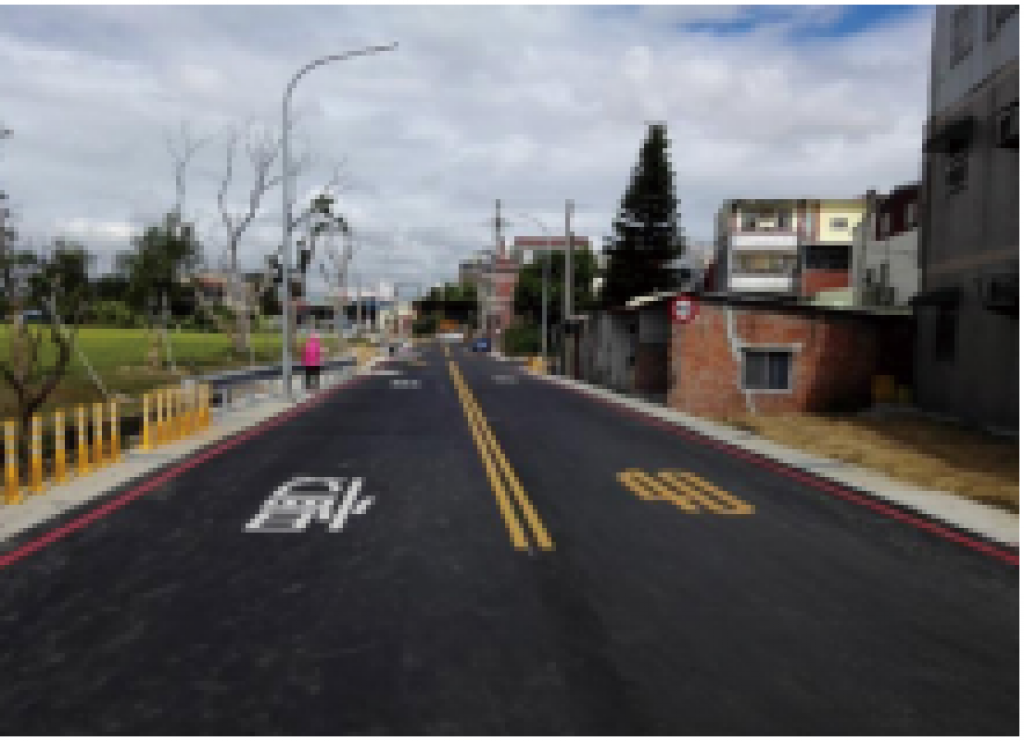 Solutions