PEGATRON Corporation
PEGATRON was founded on 2008/01/01. With abundant product development experience and vertically integrated manufacturing, we are committed to providing clients with innovative design, systematic production service.

In the 5G era, PEGATRON offers complete end-to-end solutions to build enterprise-level 5G private networks. The 5G gNB software solution developed by PEGATRON, complies with O-RAN and 3GPP standards. Together with network function virtualization infrastructure (NFVI), customization can be made for optimizing performance and providing the flexibility and capability for different field application scenarios. Adopting commercial off-the-shelf (COTS) x86 servers not only saves significant facility costs but also helps customers enjoy flexible and mature hardware platforms from general purpose server supply chains. In addition to O-RAN based 5G gNB, PEGATRON'S 5G portfolio also includes MEC, CPE, and 5G Multi-Network Camera..etc
5G O-RAN End to End solution
 Compliant with 3GPP R15/R16 & Cloud-native base platform
 Configurable for MEC/OAM functions and Faster time-to-market with CI/CD adapting to customer requirements
 Deploying Network Function Virtualization Infrastructure (NFVI) in O-RAN based cloud.
 Support O1, A1, E2. Open API compliant with O-RAN specifications
 Near-RT RIC supports Monitoring and Traffic steering and BWP allocation xApp in the future
 SMO supports FCAPS management function (CM, PM, FM and SM) and base station management, allocation management etc.
Solutions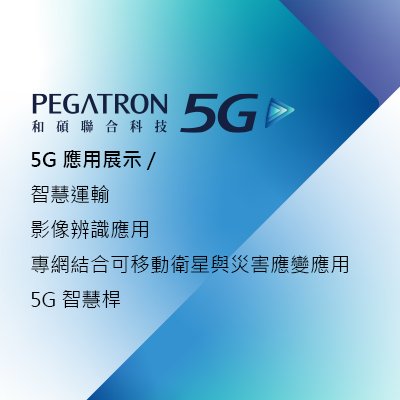 PEGATRON Corporation
710 1
Smart Transportation
5G PoC and Landing cases
a. Concept proof field: Hsinchu City Government, Hsinchu City Fire Department (Disaster Response Center)  The mobile 5G base station uses orbital satellite communications as a backhaul network to connect to the Internet and global Microsoft data centers  A highly reliable mobile orbital satellite 5G disaster relief network system b. Deploy 5G Private Network with AI Computing to help Taipei MRT for real time surveillance monitor and security control.  5G Private Network + 4K IPCAM + AI Edge Computing to provide high-quality, real-time surveillance monitor and security control.  5G PN Deployment – provide high upload throughput bandwidth  AI computing on edge computing servers to provide real time environment status monitor and security control