INTERNATIONAL CLIMATE DEVELOPMENT INSTITUTE
ICDI, together with ICLEI Kaohsiung Capacity Center (ICLEI KCC), co-launched the
''2019 Global Smart Solution Report: City Challenges and Innovations'' during COP24 and the 2019 Smart City Summit & Expo. This report, building on the momentum of Taipei Smart City Summit & Expo 2018 (SCSE), aims to showcase selected smart city achievements around the world.

 During COP23, global and regional leaders have issued the Bonn-Fiji Commitment, signifying the strong commitment and intention of local and regional leaders working in partnership with all levels of government to achieve the Paris Agreement. With the vision to put the commitment into practice and live up to sustainable development goals, this report outlines the diverse urban challenges that cities have faced and further provides an overview of practical solutions applied to achieve their goals of inclusive, safe, resilient and sustainable human settlements.
Green City in Transformation - Kaohsiung City
Main issue: Carbon reduction
Solution: 〈Pilot Green Building Project - KAOHAUS〉

[Human-Centered Urban Design]
The design of KAOHAUS building takes inspiration from the Vertical Forest concept in Milan, Italy. For example, a comprehensive academic study of the design determined that the buildings' 3-meter balconies reduced direct sunlight. Therefore, Kaohsiung has encouraged the construction of similar terraces to reduce the heat load of the buildings' roofs and facades. Vertical garden designs also create a green urban landscape instead of a cement and metal facade. Ultimately, KAOHAUS aims to develop a unique architectural vocabulary and a brand signaling high quality and internationalism.

KAOHAUS confronts the problem of illegal construction by encouraging green designs that do not sacrifice building capacity but achieve afforestation vertically. KAOHAUS also simplifies construction application procedures to reduce barriers to building. For example, green buildings receive exemptions from regulations on area and volume if they meet outlined
sustainability requirements. These initiatives reduce the urban heat island effect while curbing illegal building activity and promoting development.

KAOHAUS guidelines promote general-purpose designs that are accessible to all ages, especially children and the increasing proportion of senior citizens. Features of universal design include layouts for baths and toilets, community gathering spaces and handicapped-accessible lifts.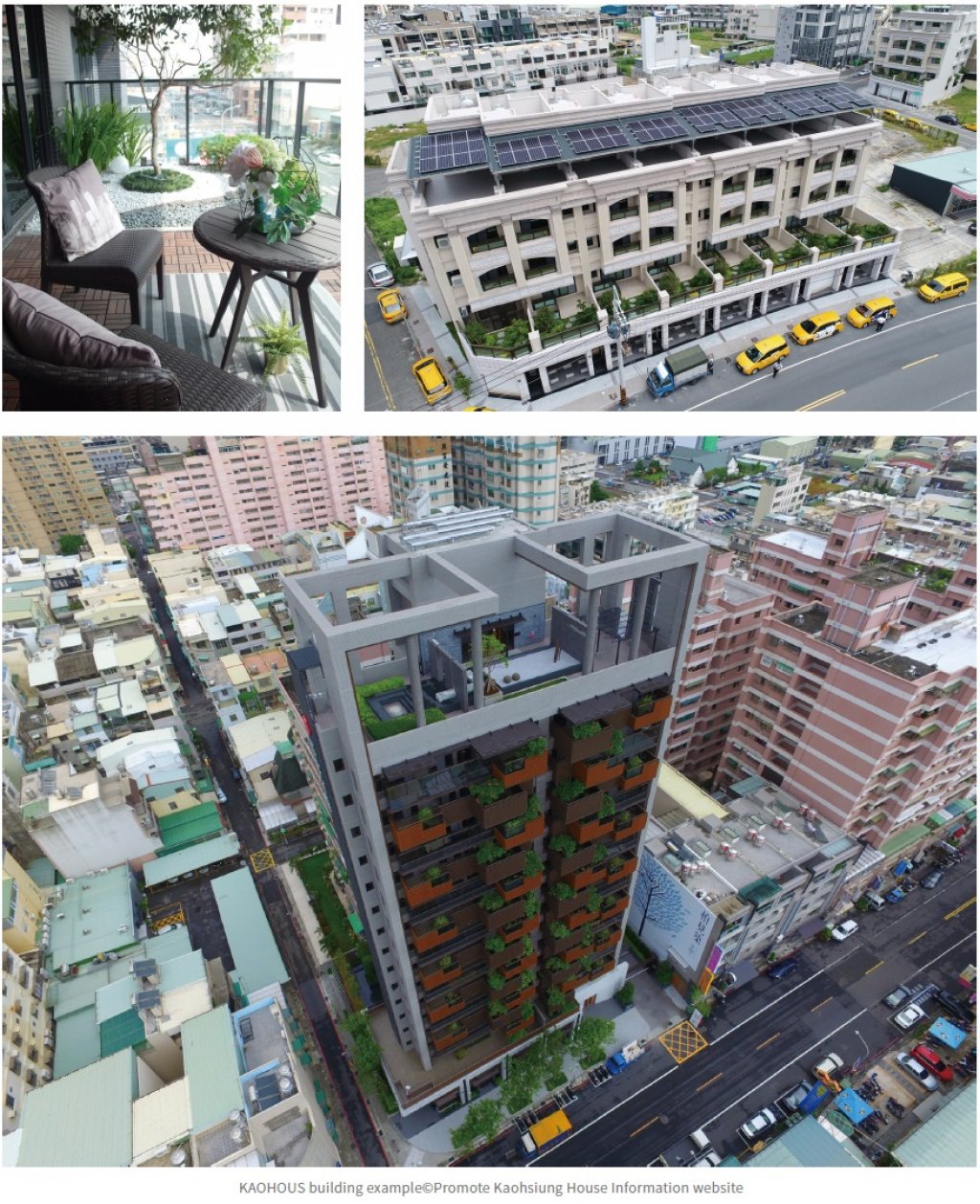 Solutions