INTERNATIONAL CLIMATE DEVELOPMENT INSTITUTE
ICDI, together with ICLEI Kaohsiung Capacity Center (ICLEI KCC), co-launched the
''2019 Global Smart Solution Report: City Challenges and Innovations'' during COP24 and the 2019 Smart City Summit & Expo. This report, building on the momentum of Taipei Smart City Summit & Expo 2018 (SCSE), aims to showcase selected smart city achievements around the world.

 During COP23, global and regional leaders have issued the Bonn-Fiji Commitment, signifying the strong commitment and intention of local and regional leaders working in partnership with all levels of government to achieve the Paris Agreement. With the vision to put the commitment into practice and live up to sustainable development goals, this report outlines the diverse urban challenges that cities have faced and further provides an overview of practical solutions applied to achieve their goals of inclusive, safe, resilient and sustainable human settlements.
Landfill Recovery Project - Seoul , South Korea
Methane was one of the major gases generated from the Nanjido landfill. The city of Seoul installed 106 methane gas extraction wells at intervals of 120m throughout the former Nanjido landfill site. The gases are then channeled into wells using fans, which are then used to provide heating for 3 public sites including the World Cup Stadium, 40 office buildings, and 16,335 households in the surrounding residential areas.

As Nanjido is an internationally recognized project, Seoul continues to share the knowledge of turning landfill into useful ecological space for citizens. In terms of sustainability and urban regeneration, Nanjido is one of the core technical tours that Seoul and organizations such as WeGO conduct. Many cities also face similar challenges in terms of converting landfill and other waste challenges. With the background of Nanjido, Seoul also introduces its other sustainable policies, from implementing RFID garbage bins for reducing food waste to its sharing economy (such as bicycle sharing).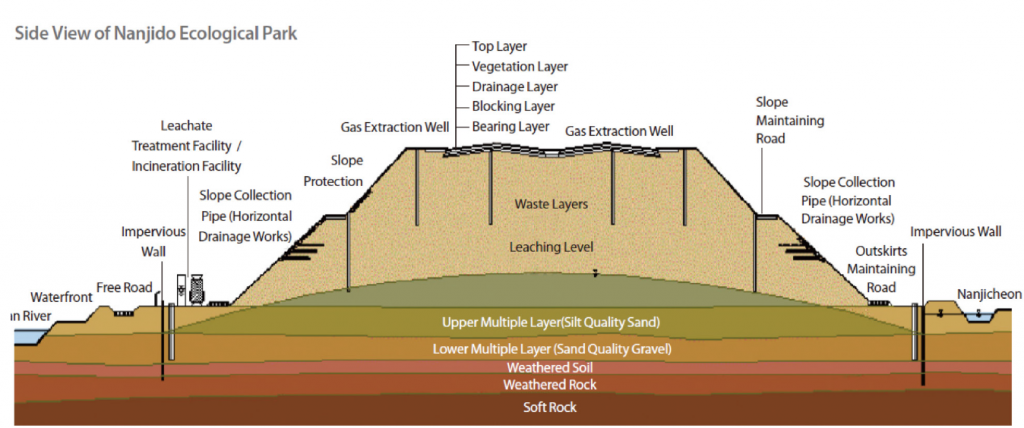 Solutions