Smart Transportation Steering Group
The framework of Taipei Smart City takes "smart government" as the core value, and promotes "smart security", "smart building", "smart transportation", "smart education", "smart healthcare", "smart environment", and "smart economy" to be the blueprint for the future development. In order to achieve it, "1+7 smart city steering groups" were established. The steering group is led by the Department of Transportation, and cooperating with the Department of Information Technology, Taipei Rapid Transit Corporation, and outside experts. It is hoped that the city vision of safe, convenient, shared, and green can be achieved through smart technologies to enhance transport efficiency and minimize environmental impact.
Display of Bike Sharing System-YouBike 2.0
The "YouBike 2.0 Bike Sharing System" adopts the concept of on-board machine and lite dock design to reduce the limit of installation at YouBike stations and make all stations "Closer and Denser" to you! YouBike 2.0 is equipped with a smart panel as the operation platform for rent and return, with not only the text display function also a QRcode scanning rental service, providing members with more convenient ways of various rental services! Partial adjustments have been made to YouBike 2.0 as well, making the operation more user-friendly!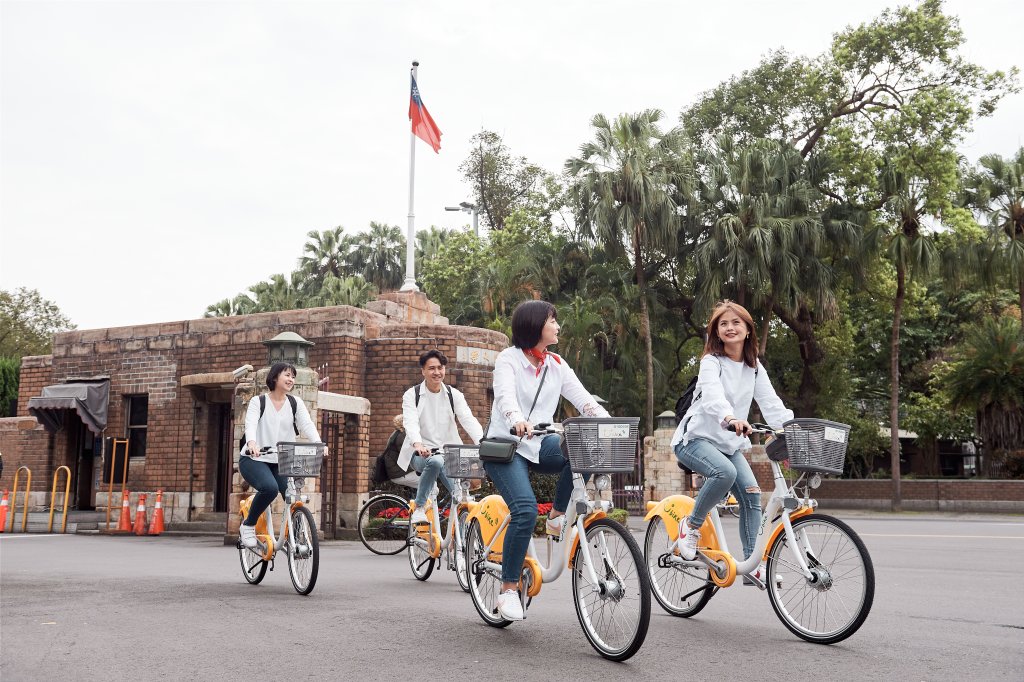 Solutions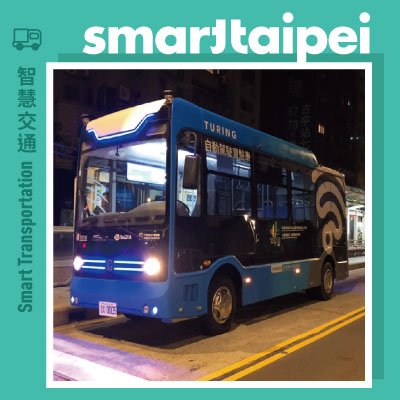 Smart Transportation Steering Group
1.73k 0
Smart Transportation
Autonomous Driving Bus Innovative Experiment Plan
Taipei City Government cooperated with Turing Drive Co. Ltd. to initiate a midnight self-driving bus test on the bus lane of Xinyi Road. From May, this test will verify the various scenarios that may face in the future. According to the results, the test will be gradually to carry passengers, and the public will experience the test ride as soon as September this year. Turing Drive Co. Ltd. is a new domestic team that specializes in the development of autonomous driving systems, combining deep learning, sensor fusion, parallel computing, and vehicle dynamic control technologies.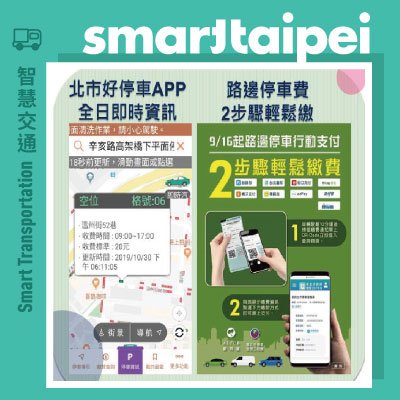 Smart Transportation Steering Group
1.46k 1
Smart Transportation
Smart Parking
In order to provide people with full day real-time parking information and smart payment services, we plan smart parking spaces to deploy sensing facilities to detect when vehicles enter and leave, if you receive a smart parking payment notice, you can use your mobile phone to scan the QR-CODE on the smart parking payment notice to check parking information, pay with smart payment, and enjoy a 10-minute free parking. We provide 24-hour real-time parking information, the【iTaipeiParking】App can query real-time parking information and it will save 5 to 10 minutes to find a parking space.

Smart Transportation Steering Group
1.84k 0
Smart Transportation
Intelligent Traffic Signals Control Application in Taipei
Taipei City has developed 22 intelligent intersections in 2020, including dynamic control system for congestion improvement and traffic -responsive signal control system for green time efficiency at intersections. The dynamic control system named PaSO Plus uses real-time traffic data from roadside detectors and compute important traffic parameters in a very short time to send dynamic signal plans to the onsite signals. In this way, the signals could adjust green time in repsonse to the real traffic demand to optimize the traffic flows in the control area and improve corridors travel time. The travel time of the main corridors - Keelung Road and Xinyi Road around Xinyi District CBD has been reduced by 9~17%. The traffic-responsive signal control system uses AI edge image reconition system and the pedestiran touch button to sense vehicles and pedestrians, and adjust phase split instantly. In this way, the waste time of stopped vehicles on the arterial road can be saved and pedestrian crossing intersections become safer.