INTERNATIONAL CLIMATE DEVELOPMENT INSTITUTE
ICDI, together with ICLEI Kaohsiung Capacity Center (ICLEI KCC), co-launched the
''2019 Global Smart Solution Report: City Challenges and Innovations'' during COP24 and the 2019 Smart City Summit & Expo. This report, building on the momentum of Taipei Smart City Summit & Expo 2018 (SCSE), aims to showcase selected smart city achievements around the world.

 During COP23, global and regional leaders have issued the Bonn-Fiji Commitment, signifying the strong commitment and intention of local and regional leaders working in partnership with all levels of government to achieve the Paris Agreement. With the vision to put the commitment into practice and live up to sustainable development goals, this report outlines the diverse urban challenges that cities have faced and further provides an overview of practical solutions applied to achieve their goals of inclusive, safe, resilient and sustainable human settlements.
The Miracle of Green Energy
In order to accelerate Taoyuan's green energy development, Taoyuan established Green Energy Promotion Office to promote green energy through solar power, wind energy, hydraulic energy and biomass energy. The city had push "Leasing and Installation of Roof Photovoltaic Systems in Public Housing", Biomass Energy Center, subsidies of Photovoltaic Pond … etc. By the effort of city government, the city's total installed capacity for solar energy is about 123.7 MW, which could satisfied 46% household in Taoyuan. And Taoyuan had received forth rank by Energy Transformation Promotion Alliance in 2018. Now, Taoyuan aim to new goal of reaching total installed capacity about 675MW.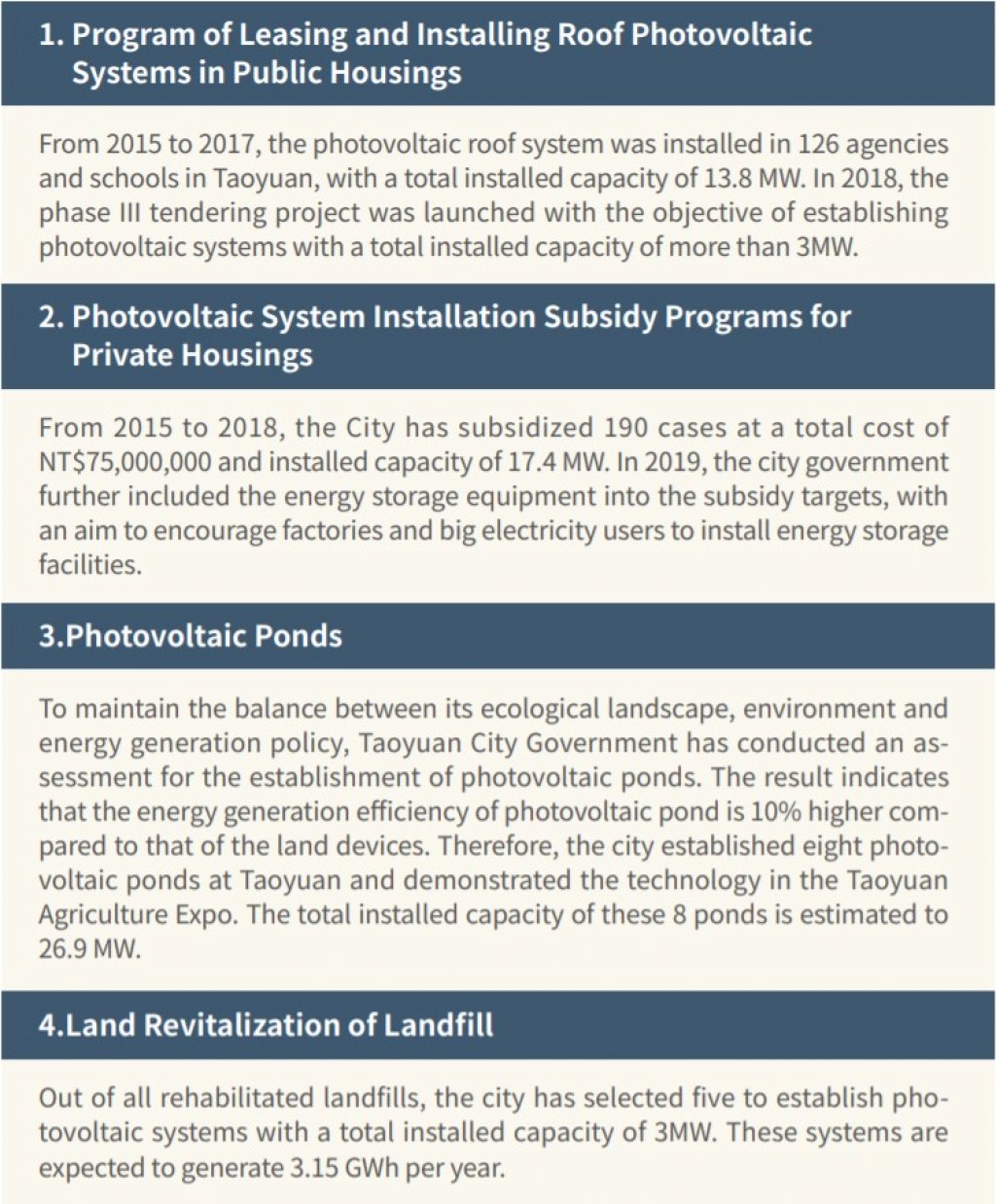 Download

Solutions