INTERNATIONAL CLIMATE DEVELOPMENT INSTITUTE
ICDI, together with ICLEI Kaohsiung Capacity Center (ICLEI KCC), co-launched the
''2019 Global Smart Solution Report: City Challenges and Innovations'' during COP24 and the 2019 Smart City Summit & Expo. This report, building on the momentum of Taipei Smart City Summit & Expo 2018 (SCSE), aims to showcase selected smart city achievements around the world.

 During COP23, global and regional leaders have issued the Bonn-Fiji Commitment, signifying the strong commitment and intention of local and regional leaders working in partnership with all levels of government to achieve the Paris Agreement. With the vision to put the commitment into practice and live up to sustainable development goals, this report outlines the diverse urban challenges that cities have faced and further provides an overview of practical solutions applied to achieve their goals of inclusive, safe, resilient and sustainable human settlements.
Illumination of Micro-grid System for the Tribes ─ Pingtung County
The Pingtung County Government planned to establish a disaster-prevention microgrid system that could provide essential lighting, food, communication, and life-support equipment during the 72-hour "golden
window" for the safety of Indigenous townships. The microgrid system combines four components, solar generators, power storage, backup power, and remote power management systems.

The benefits of the disaster prevention micro-grid system are as follows:
1. The primary supply of electricity when using these systems is usually from solar power. When insufficient solar power is generated, the system transmits electricity from Taiwan Power Company. This helps reduce
energy consumption.
2. The system provides 100% self-sufficiency in renewable energy during the islanding effect caused by disasters. Thus, it helps to achieve the vision of zero carbon emissions during a disaster.
3. The system provides a stable supply of electricity for 72 hours for lighting, communication, and life-support equipment. It also helps to support the residents who are waiting for rescue.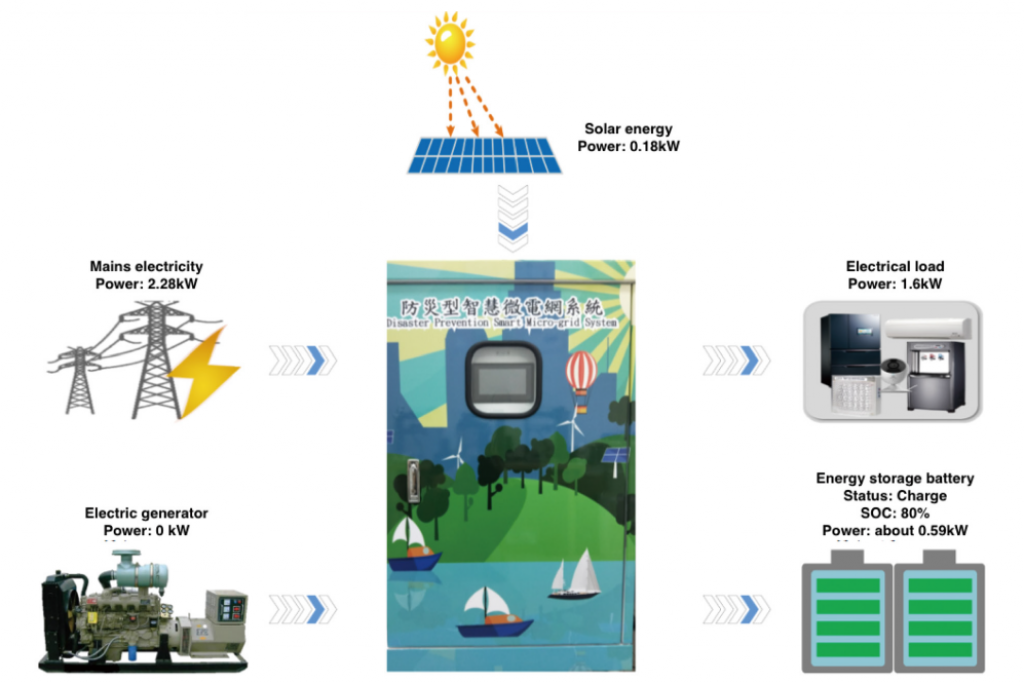 Solutions